Signs of an abusive relationship
Domestic violence doesn't just constitute physical abuse. A partner can exert power and control by making negative comments, isolating the victim from friends or family, using children to manipulate the victim, controlling finances and coercing, threatening and intimidating. According to Women's Transitional Care Services, here are some indicators of domestic violence:
Characteristics of an abuser
• May claim disapproval of violence
• Sees women as property or sex objects
• May be stuck in traditional gender roles, such as the male is the breadwinner and the female is the homemaker
• Blames abuse on "external factors," such as alcohol, stress or the partner's behavior
Characteristics of an abusive relationship
• Watches your actions closely
• Frightens you
• Isolates you from family and friends
• Is excessively jealous
• Puts you down and calls you names
• Must always have control
Where to go for help
WTCS
Women's Transitional Care Services helps domestic violence survivors in Douglas, Jefferson and Franklin counties. It provides a safe house for women and children, acts as a court advocate, holds weekly support groups, has a 24-hour crisis line and offers practical assistance for survivors looking for housing, clothes, financial support, food and legal counsel. The organization can be reached 843-3333, toll free at 1-800-770-3030 or online at wtcskansas.org.
GaDuGi SafeCenter
For instances of sexual abuse, support can be found at GaDuGi SafeCenter. From the time that a survivor arrives at the hospital to the end of the court trial, a GaDuGi volunteer is available to shepherd the survivor through the process. Rape victim survivor service advocates with GaDuGi can be reached 24 hours a day at Headquarters Counseling Center at 841-2435 for Lawrence, Eudora, Lecompton. In Baldwin City, they can be reached at 888-899-2345.
Legal avenues
Victims of domestic abuse can seek a protection from abuse order, which prohibits the defendant from having contact with the victim. They can also file a protection from stalking order, which prohibits the defendant from harassing, telephoning, contacting or otherwise communicating with the victim, according to the Kansas Bureau of Investigation. While the order doesn't guarantee that an abuser will stay away, it does create a legal record, which is sometimes enough to stop abuse from continuing, said Sarah Terwelp, WTCS executive director
Photo Gallery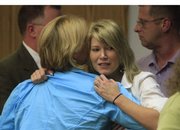 Francie Biggs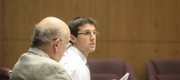 More coverage of the trial of a former Kansas University student accused of beating and kidnapping his ex-girlfriend.
Francie Biggs, the 23-year-old victim in the Matthew Jaeger trial, had prayed for a way out of her abusive relationship with her ex-boyfriend.
That escape came one night in October 2007, when Jaeger entered Biggs' apartment, found her with another man and severely beat her. With a friend driving his car, Jaeger left the apartment with Biggs. When police pulled Jaeger's car over, they found Biggs in the back seat bleeding from injuries to her vaginal area.
"I thought: This is a horrible thing that happened to me. But now people can see — this is a dangerous person," Biggs said. "I realized this is going to be a hard thing to go through. But it is the beginning to get to the right place."
On Friday, one day after a Douglas County jury found her former boyfriend guilty of aggravated battery and kidnapping, Biggs talked to the Lawrence Journal-World. She hopes her ordeal will encourage other women to seek help in leaving violent relationships.
"I feel like there has been a weight lifted off my shoulders that I have been carrying around for almost two years and finally justice was served," she said of Thursday's verdict.
For Biggs, who now lives out of state, the long healing process started with an 11-day hospital stay and ended with a two-week trial. It was the nature of Biggs' injuries that grabbed so many people's attention.
"If she had a busted jaw or a twisted arm or a broken rib, it probably wouldn't have gotten this amount of publicity," said Nola Wright, an assistant Kansas attorney general who was lead prosecutor on the case.
While the injury was rare, the violence between young couples is not.
In 2008, 688 reports of domestic violence were made to law enforcement in Douglas County. Almost half of those victims were between the ages of 15 and 25.
"The reality of it is, domestic violence knows no bounds," said Douglas County District Attorney Charles Branson.
A violent cycle
Biggs had been dating Jaeger for about a year when she discovered the now-24-year-old KU student from Chicago had started stalking her. It was then that she wanted to end the relationship.
"I realized that this is not normal. When he saw that I was thinking that, and that I didn't want to be around him, that is when it changed. He was not the same person anymore," she said.
He would be there when she went to a gasoline station or a grocery store. She became envious of her friends' freedom and felt as though she lived in a prison. The more she tried to get out, the more intense the abuse became.
"A lot of people were afraid to stand up to him. He was big and strong and a fighter. So most people never stood up to him. I definitely did," she said. "And he beat me up a lot for that."
Getting out of an abusive relationship is a difficult decision, said Sarah Terwelp, executive director of Women's Transitional Care Services. The nonprofit organization offers a safe house, court advocacy and other resources to more than 1,000 domestic abuse survivors each year.
"It is hard to come to that acknowledgment and understanding about yourself when you feel like you should be able to take care of yourself and no one should be able to harm you," she said.
And often, as in the case of Biggs, women face the greatest danger once they leave the relationship.
Finding help
Looking back, Biggs wished she had sought legal help sooner, such as filing a protection from abuse or protection from stalking order with the court. At the time, she was afraid of what would happen if the court order didn't work.
While a protection order doesn't guarantee that an abuser will stay away, Terwelp said it does put on record that abuse has been occurring.
"In some cases it works really well," she said. "Just having that opportunity to hold the abuser accountable is enough.
Help did come for Biggs — but it was at a high cost.
On the night of the attack, Biggs had little doubt who was breaking through her window. And at first her concern was for the safety of the other man in her apartment.
"I got him out of there as fast as I could. And then I realized what was going to happen to me," she said.
At no point did Biggs think she would die. But there was concern she would never have children.
"In the hospital, I thought, well, if I didn't die when he did this to me, I think I might have just died, because they told me 'we don't know if you can have kids.' And it just killed me."
One day and another surgery later, doctors told Biggs she would be able to have children. Today, Biggs says she has recovered, but noted she'll "never look the same down there."
She praises everyone, from hospital staff to police officers and prosecutors, for the support they gave her. After the attack, she continued to live in her apartment. It was there that she found the freedom she was seeking when she drove her car for the first time after the ordeal.
"It really felt like I had been released from somewhere horrible and I could drive without being followed. I didn't have to be afraid anymore," she said.
'Maybe they can look at me'
Not all domestic violence survivors have the satisfaction of seeing their abuser sent to prison. About half of the domestic violence reports that come across the Douglas County District Attorney's desk enter the court system.
For some, the outcome is fatal.
In 2007, on average every 21 days a person in Kansas died from domestic violence. Some of Douglas County's most high profile homicide cases have been the result of domestic violence, such as the deaths of Carmin Ross, Jana Mackey, Mary Miller and Linda Begay.
"Cases like this I suppose raise people's curiosity. I hope it can be used to raise people's awareness about domestic violence," Branson said.
Biggs just wants other women to take notice.
"Maybe they can look at me and say, 'I don't want that to happen to me,' because no one would want that to happen and they can get out of the situation," she said. "Stand up for yourself, stick with what you believe in and don't settle for a guy that will hurt you. Because it will get to the point where he is going to kill you. And nobody should take that from somebody."
Copyright 2018 The Lawrence Journal-World. All rights reserved. This material may not be published, broadcast, rewritten or redistributed. We strive to uphold our values for every story published.