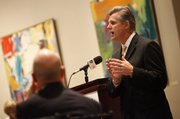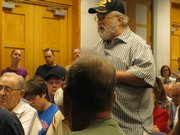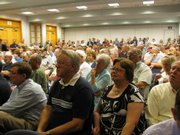 Tiahrt's Take
Answering a question from the audience in Lawrence, U.S. Rep. Todd Tiahrt, R-Kan., outlined ways he would change the health care system if he were granted "ultimate power" over the health care system — a situation he likened to being "king for a day."
He said he would:
Work to reduce "excessive paperwork" that forces hospitals to spend 1.1 hours on paperwork for every hour of care provided.
Support creation of portable health records, so people can control access to their own information.
Allow consumers to "shop across state lines" for health insurance, to "expand the pool" of insured people.
Ensure that people with pre-existing conditions can get coverage.
Provide vouchers for people under the poverty level, so they could shop for insurance.
See that a "basic" health policy would be offered to everyone, while people would be allowed to buy extra coverage as they saw fit.
Topeka — U.S. Rep. Todd Tiahrt, R-Kan., said Thursday that he feared the health care reform plan proposed by Democrats would allow states to urge the elderly to refuse care and die.
He told an overflow crowd of more than 200 people attending a town hall meeting at the Topeka-Shawnee County Public Library that H.R. 3200 would require elderly people to get end-of-life counseling.
He said he feared that in states such as Oregon, which allows the terminally ill to end their lives, the proposed health care bill would result in elderly people being encouraged to stop treatments in order to reduce expenses in the health care system.
"You can take the blue pill," he said. Former Alaska Gov. Sarah Palin, also a Republican, has made a similar claim.
Later, Tiahrt repeated the assertion during a luncheon meeting organized by the Lawrence Chamber of Commerce. About 90 chamber members and guests attended the luncheon at Maceli's, including one who asked Tiahrt whether lawmakers had a responsibility to "correct incorrect information" during such legislative debates.
That's one of the reasons Tiahrt carries around a copy of the 1,017-page bill, he said: to be sure he's being truthful.
"When somebody makes a statement, I look it up," he said, turning his attention to the end-of-life counseling issue. "The way I've read it, it's mandatory."
But non-partisan observers and researchers of the health care debate say the Democratic proposal contains no such mandate.
The bill allows Medicare to pay for doctors' appointments for patients to discuss living wills, and other end-of-life planning. A number of health care organizations and the AARP support this proposal.
Tiahrt also criticized a part of the bill that would set up a research center to determine the best ways to treat ailments. He said this would limit what doctors could try to do for patients. President Barack Obama, however, has said the research could be used to advise health care workers.
Most folks at the Topeka forum opposed the reform plan, with many people expressing displeasure with Obama, the federal government, illegal immigrants, socialism, lawsuits against doctors, and politicians in general.
Tiahrt, a conservative Republican from Goddard who is running for U.S. Senate, was warmly received by the crowd.
He said several times that the United States has the best health care system in the world, and that expanding the federal government's role would ruin it.
Obama and many congressional Democrats are pushing for changes to extend health care coverage to the approximately 47 million uninsured, rein in skyrocketing health care costs, and prevent private insurance abuses.
But people at the meeting were opposed to the Democratic initiative.
Clark Sutphen, a Vietnam veteran from Topeka, asked, "When is everything going to be stopped being pushed down our throats?" He said Obama reminded him of a dictator "with a little mustache."
When one man complained that illegal immigrants were getting health care in hospital emergency rooms, another man yelled: "We should just let them die." A woman, in asking a question to Tiahrt, referred to illegal immigrants from Mexico as "wetbacks."
Matthew Asher of Holton said he received dialysis treatment nine hours per day and was concerned that bringing 47 million uninsured into coverage would impede his access to health care.
Tiahrt agreed with him. He said the Democratic proposal, which features a public option insurance plan, would shrink the private health insurance market and reduce the pay of physicians, which ultimately would lead to "longer waiting lines in order to get care."
Tiahrt said when Congress reconvenes in September, Republicans would offer an alternative plan.
Copyright 2018 The Lawrence Journal-World. All rights reserved. This material may not be published, broadcast, rewritten or redistributed. We strive to uphold our values for every story published.