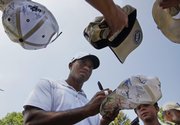 CHASKA, MINN. — Paul Azinger pulled the driver from his bag because there really is no other option at Hazeltine. The sign post on the opening hole has two words and two sets of numbers that serve as a not-so-subtle welcome to the PGA Championship.
490 yards. Par 4.
No need to put the cover back on the driver or any of the fairway metals for most players in the PGA Championship.
The final major gets under way today, already in the record books without a single shot having been hit that counts on the card. Hazeltine National measures an official 7,674 yards, making it the longest course in major championship history.
The previous record was 7,643 yards last year at Torrey Pines for the U.S. Open. Before that, the record belonged to Medinah No. 3, which was 7,561 yards for the 2006 PGA Championship. And before that, it was 7,514 yards at Whistling Straits for the '04 PGA.
The PGA Championship bills itself as "Glory's Last Shot" because it is the final chance of the year to win a major. That takes on particular significance for Tiger Woods, whose five victories this year do not include the kind he covets the most.
Woods is trying to match Jack Nicklaus and Walter Hagen with his fifth PGA Championship victory, and continue toward a more obscure record. Hagen won a major six years in a row; Woods is at four.
The world's No. 1 player came close seven years ago at Hazeltine, closing with four straight birdies to finish one shot behind Rich Beem. The course was a mere 7,360 yards for the 2002 PGA Championship. Woods couldn't help but notice the difference.
"Oh, man," he said when asked what he had seen of the course. "It's a heck of a lot longer than what we played in 2002."
Hazeltine gets most of its length in the par 5s, the shortest of which is 572 yards.
SOCCER
Mexico tops U.S., 2-1
Mexico City — Miguel Sabah scored in the 82nd minute, lifting Mexico to a 2-1 victory over the United States in a World Cup qualifier Wednesday. The win strengthened Mexico's chances of reaching next year's World Cup in South Africa. The Mexicans entered the game fourth in CONCACAF qualifying, with only the top three teams automatically advancing. Mexico now has nine points.
BASEBALL
Royals release Ponson
Minneapolis — The Kansas City Royals granted right-hander Sidney Ponson unconditional release waivers, making the veteran a free agent. Ponson (1-7) was designated for assignment Aug. 2, two days after allowing seven runs in 41⁄3 innings at Tampa Bay. He had a 7.36 earned-run average with 32 strikeouts and 25 walks in 582⁄3 innings for Kansas City this season. Ponson has a 91-113 career mark for seven different major-league teams.
Youkilis, Porcello suspended
New York — Boston's Kevin Youkilis and Detroit pitcher Rick Porcello were suspended for five games each Wednesday and fined by Major League Baseball for their roles in a benches-clearing confrontation.
MLB vice president Bob Watson cited Youkilis for charging the mound, throwing his helmet at Porcello and inciting Tuesday night's hostilities. Watson penalized Porcello for intentionally throwing pitches at Victor Martinez in the first inning and Youkilis in the second.
In addition, Detroit pitcher Edwin Jackson was fined for what Watson said were aggressive actions.
Mets slash ticket prices
New York — With the New York Mets fading from contention, the team has cut ticket prices up to 50 percent for some seats for 13 of 26 remaining home games. Metropolitan Box seats originally priced at $180 can be had for $90 for six games starting with Friday night, according to an Internet promotion for TheaterMania members.
COLLEGE BASKETBALL
NIT Tip-Off field set
Duke is the top-seeded team in the NIT Tip-Off Tournament that also includes second-seeded Connecticut, third-seeded LSU and fourth-seeded Arizona State.
The tournament's 16-team field was announced on Wednesday. The top four teams will play host to regional games beginning on Nov. 16. In the first round, Duke will play Coastal Carolina, UConn will take on Colgate, LSU entertains Indiana State and Arizona State will face Texas State.
NBA
Cavaliers sign Powe
Cleveland — The Cleveland Cavaliers signed free-agent forward Leon Powe, who as a youth played with LeBron James on several AAU teams, to a two-year contract on Wednesday.
But he won't be playing with James anytime soon. Powe, who averaged 7.7 points in 70 games with the Boston Celtics last season, tore the ACL in his left knee during the playoffs and had reconstructive surgery on May 5. It was the third major medical procedure Powe has endured on the knee. He isn't expected to be ready to play for the Cavaliers until February.
Clippers acquire Butler
Los Angeles — The Clippers have acquired shooting guard Rasual Butler and cash from the New Orleans Hornets in exchange for a conditional second-round draft pick in 2016. Butler had the most productive season of his seven-year career in 2008-09, averaging 11.2 points and 3.3 rebounds.
Wallace rejoins Pistons
Auburn Hills, Mich. — Ben Wallace says he was very close to retiring before deciding to rejoin the Detroit Pistons. After three seasons away from Detroit, the four-time All Star signed a free-agent contract Wednesday with the Pistons. Wallace won an NBA title with Detroit in 2004 and went back to the finals in 2005.
TENNIS
Clijsters wins at Cincinnati
Mason, Ohio — Playing her second competitive match in more than two years, Kim Clijsters reached the third round of the Cincinnati Open with a 6-2, 7-5 win over Patty Schnyder on Wednesday. Clijsters who retired in May 2007 and gave birth to a daughter in February 2008, knocked out 12th-seeded Marion Bartoli in straight sets on Monday.
Nadal advances in Montreal
Montreal — Rafael Nadal won his first match since May when David Ferrer retired because of an apparent knee injury in the first set of their match Wednesday night at the Rogers Cup. Nadal led 4-3 when Ferrer informed the chair umpire he could not continue, an ironic twist since it was Nadal who was returning for his first match since the French Open due to tendinitis in both knees. Earlier, Andy Roddick beat Igor Andreev, 6-1, 7-6 (3), to reach the third round.
NFL
Sabotage talk dismissed
Berea, Ohio — Eric Mangini says his Cleveland Browns quarterbacks are competing, not cheating.
The radio transmitter inside Derek Anderson's helmet wasn't working in a Sunday scrimmage, so he used hand signals to relay plays. Anderson joked after the scrimmage that Brady Quinn told the defense what all the signals meant.
"Those guys are competitive and they're friends," Mangini said Wednesday. "The group is friendly and the game was competitive by nature. ... All I see them doing is supporting each other."
COLLEGE FOOTBALL
USC quarterback ailing
Los Angeles — Southern California quarterback Aaron Corp has a small crack in his bruised left knee and will be out about two weeks.
Copyright 2018 The Associated Press. All rights reserved. This material may not be published, broadcast, rewritten or redistributed. We strive to uphold our values for every story published.