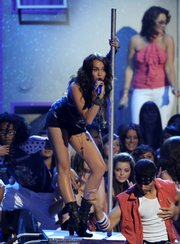 Hollywood — Miley Cyrus' provocative performance during Monday night's "Teen Choice Awards," in which she wore short shorts and boots and at one point straddled a pole, has set off a firestorm on the Internet over whether the act was appropriate for a 16-year-old entertainer in front of a youthful audience.
On YouTube and on Twitter, followers of the Disney Channel series "Hannah Montana" debated whether Miley was doing a pole dance on top of a moving ice cream pushcart or was simply hanging on to the pole for balance. Some found her sultry routine over the top for the Fox award show, which attracted 4 million viewers — more than a quarter of whom were under age 18, according to Nielsen ratings.
This is not the first time the teen performer has been at odds with the image of the chaste pop star she portrays on TV. A 2008 Vanity Fair photograph of Miley draped in a satin sheet, her bare back and shoulders exposed to the camera, triggered criticism from parents about what they called the sexualization of the then-15-year-old. Miley issued a statement saying she was "embarrassed" by the Annie Leibovitz photo.
Miley's publicist and Disney Channel declined to comment on her "Teen Choice" performance of "Party in the USA." A Fox spokeswoman referred calls to the show's executive producer, Bob Bain, who could not be reached.
Internet video of the episode indicates a certain squeamishness on the part of the network, which kept the camera on Miley's face while she was straddling the pole. That full image was captured in still photographs.
Although Miley has signed to make a fourth season of "Hannah Montana," she is clearly contemplating the next phase of her career. She is making the feature film "The Last Song," which Disney hopes will be a breakout role for the young actress. Her 2008 solo album, "Breakout," sold more in its first week than the newly released soundtrack album from the third season of the show.
Cyrus' performance drew criticism from some parent advocates, who object to the creeping "pornification" of the culture, where pole dancing has become so mainstream it's taught at fitness clubs. These groups worry that early exposure to sexual images can lead to problems like eating disorders and low self-esteem.
"Pole dancing on top of an ice cream cart is not 'hot'; it's left many of us 'cold,'" said Amy Jussel, founder and executive director of Shaping Youth, a nonprofit consortium dealing with the influence of media and marketing on kids.
It also has the potential to create headaches for Disney, which has built a billion-dollar franchise around "Hannah Montana" — embodied by a young actress who, like any adolescent, is bound to make mistakes.
"She's entitled to grow up. Some do it more gracefully than others," said Gwen Billings, editor of Cynopsis Kids, an e-mail trade publication that covers children and entertainment. "It's really hard to know who's making those decisions. I can't imagine something like this (performance) gets all the way to the stage because a teenager says this is something I want to do. Somebody's got to provide the pole."
Copyright 2017 The Lawrence Journal-World. All rights reserved. This material may not be published, broadcast, rewritten or redistributed. We strive to uphold our values for every story published.