Photo Gallery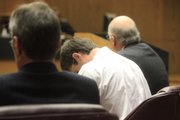 Matthew Jaeger found guilty
Former KU student Matthew Jaeger was found guilty Thursday on three of four charges related to brutal beating and kidnapping of his ex-girlfriend. Jaeger was found guilty of simple kidnapping, aggravated battery and making a criminal threat.
Photo Gallery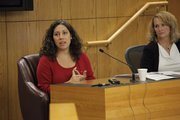 Matthew Jaeger trial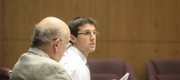 More coverage of the trial of a former Kansas University student accused of beating and kidnapping his ex-girlfriend.
Jaeger Trial Updates, Via Twitter
Former Kansas University student Matthew Jaeger dropped his head moments after a Douglas County jury convicted him Thursday afternoon of beating and kidnapping his ex-girlfriend.
After the seven-man, five-woman jury left the courtroom, the victim — who suffered internal injuries to her external vagina area on the night of Oct. 9, 2007 — hugged prosecutor Nola Wright.
"For what she went through, she spent 11 days in the hospital. It was very, very severe," said Wright, an assistant Kansas attorney general.
Jaeger, a 24-year-old suburban Chicago man, was taken in handcuffs from the courtroom to Douglas County Jail after the verdict. His sentencing is set for Sept. 25 and he faces at least four years in a Kansas prison.
His defense attorneys say an appeal is certainty.
"We thought the scientific evidence we introduced was sufficient to create a reasonable doubt on all counts," defense attorney Pedro Irigonegaray said.
Wright and Jason Hart, with the attorney general's office, prosecuted the case because Douglas County District Attorney Charles Branson represented Jaeger on a DUI charge when Branson was in private practice.
The jury began its deliberations Monday afternoon, and by 2:30 p.m. Thursday returned a guilty verdict on three charges: kidnapping, aggravated battery and making a criminal threat against a man who was with the victim in her apartment on the night of the incident.
Jurors were unable to reach a verdict on a charge of aggravated burglary. Prosecutors could seek another trial on that count, but it's unlikely because the jury convicted him of the two most severe charges he faced.
"The Lawrence community should be very proud of its police force. I was impressed with their investigation," said Wright, an assistant Kansas attorney general. "They were thorough. They were dedicated, and they put the case together. We just put it in front of the jury."
Extensive injuries
As prosecutors presented seven days worth of evidence in the trial, they built a case accusing Jaeger of breaking into his ex-girlfriend's northern Lawrence apartment. They said he chased away and threatened Dylan Jones, the man she was with. The victim testified that Jaeger then choked her unconscious, and she said she awoke later with extensive injuries to her external vaginal area.
Prosecutors said Jaeger punched or kicked her in the pelvic region and dragged her from her apartment into a car driven by his friend, Evan Carroll. Police later stopped the car and the men said they were trying to take her to the hospital.
Defense attorneys Irigonegaray and Michael Saken had worked to convince the jury that Jaeger was worried about his former girlfriend's safety that night. His attorneys said he found her injured and tried to help her after she fell onto a bed railing in her bedroom.
"The thing that made this case go was the 911 call. You had neighbors who were paying attention and who picked up the phone," Wright said.
Plans to appeal
Irigonegaray said he was pleased that jurors did not convict Jaeger on the most severe charge — aggravated kidnapping — but said he was disappointed with the overall outcome.
"Now it is up to an appellate court to determine whether or not we have merit in whatever appeals we file," he said.
Chief Douglas County District Judge Robert Fairchild revoked Jaeger's $850,000 bond after the verdict was announced, and Douglas County Sheriff's deputies took him into custody.
Jurors deliberated five hours Thursday. On Wednesday, deliberations were interrupted when Fairchild dismissed a male juror for misconduct. Despite a motion from defense attorneys for a mistrial, Fairchild decided to replace the male juror with an alternate, who is a woman.
Defense attorneys said the juror who was dismissed re-enacted material facts of the case, but prosecutors said his conduct did not influence the other 11 jurors.
Before the trial, prosecutors had asked the judge to impose a harsher sentence if Jaeger was convicted because prosecutors said it was an excessively brutal crime. The jury would have had to make that decision similar to a capital murder case, but Fairchild dismissed the jury after the verdict was announced.
Sources said Fairchild denied the prosecution's motion for the harsher sentence after he heard all of the state's evidence in the case.
Copyright 2018 The Lawrence Journal-World. All rights reserved. This material may not be published, broadcast, rewritten or redistributed. We strive to uphold our values for every story published.