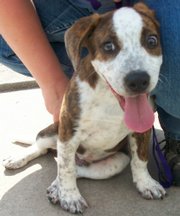 A five-month-old pit bull/terrier mix went missing from the Lawrence Humane Society about 1 p.m. Monday.
Lawrence Humane Society Executive Director Midge Grinstead said "Oxford" was stolen from his kennel, which is located just inside and across from an outside door to the building.
"It's pretty frustrating," said Grinstead. "Part of the problem is we don't have money for staff. Less staff means we can't watch like we normally would."
A volunteer was working at the time of the theft. The building's west door was unlocked to allow the volunteer to walk dogs, and that's when the thieves struck. The volunteer saw someone drive off in a car with the dog, but by the time the volunteer realized what was happening, Oxford was already gone.
"I think they targeted the dog," said Grinstead. "The fact that they knew right where the dog was, came right in and left immediately says to me that they did their homework, and they checked it out, and they knew the side door led right in there."
This is the first dog theft at the Humane Society, but the second theft of an animal this year. Earlier this summer a kitten was stolen from the humane society.
Grinstead believes that rather than financial reasons, Oxford was stolen for pit bull fighting purposes.
Oxford is 4 to 5 months old and has a brown and white mixed coat with big floppy ears.
Grinstead is asking anyone who may know of Oxford's whereabouts to call police or the humane society directly at 843-6835.
Copyright 2018 The Lawrence Journal-World. All rights reserved. This material may not be published, broadcast, rewritten or redistributed. We strive to uphold our values for every story published.