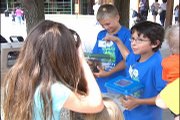 Kansas City, Mo. — Editor's note: Reporter Mark Boyle takes us behind the scenes of news stories in the area. This week, he makes the trip to the Kansas City Zoo and takes part in the "Zookeeper for a Day" program. It's open to anyone and it's a hands-on learning experience aimed to educate children about the profession, as well as the many rare animals featured at the Kansas City Zoo.
Zookeepers work in all weather conditions, in and around nearly every animal species, and it's all for their love of caring for exotic animals that are on display for the zoo's patrons.
"Zookeeper for a Day" is a program at the Kansas City Zoo designed to educate kids about the profession. Children learn quickly about the job's many demands and the intricacies of animals they work around.
"I think it's a great program," said Natalie Johnson, who is a zookeeper at the Kansas City Zoo. "It's a wonderful opportunity for any child that might be interested in becoming a zookeeper."
During this all-day program, children are able to take part in daily chores, including cleanup of the domestic animal grounds. They are also treated to a lorikeet feeding, in which the birds flock to their arms for a taste of a sugary liquid feed.
The day is completed at a display set up near the zoo's entrance. On the day I visited the young zookeepers were teaching patrons about the Madagascar hissing cockroach, white hedgehog and a rare salamander.
"I want to be a zookeeper when I grow up," said Christian Medina, a student of the program. Christian has visited zoos around the country, and has also adopted sea lions nationwide.
Last week the Medina family traveled all the way from Texas to attend the program in Kansas City, and they believe it's one of the best in the country.
"It's amazing; the exposure that he gets to the animals is fabulous," said Linda Medina, Christian's mother. "The Kansas City Zoo has done an enormous job on this, far more than we've ever seen."
Perhaps the most common misconception people have about the profession is that the animals are tame and zookeepers are able to get near them on a regular basis. That's simply not true, says Kelly Martin, school and outreach coordinator for the zoo.
"They think we cuddle them," Martin said. "They are wild animals and we treat them as such."
If you would like to get involved with the "Zookeeper for a Day" program, log on to kansascityzoo.org.
Copyright 2018 The Lawrence Journal-World. All rights reserved. This material may not be published, broadcast, rewritten or redistributed. We strive to uphold our values for every story published.