Andy Warhol was many things: artist, pop culture icon, filmmaker, author, record producer, photographer.
Thomas Sokolowski would add another title to that list.
"He was the consummate packrat," says Sokolowski, director of the Andy Warhol Museum in Pittsburgh. "He kept everything. He was a kid who grew up during the Depression in a very poor family. He didn't give things away."
Warhol often would pack his working materials and the memorabilia he collected in boxes, each representing a month of his life.
Photo Gallery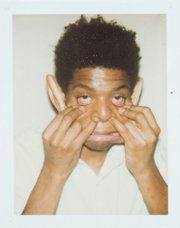 Andy Warhol photographs
Photographs by Andy Warhol featured in the exhibit "Big Shots: Andy Warhol, Celebrity Culture and the 1980s" at the Spencer Museum of Art.
More than two decades after his death, those packrat tendencies give art historians and Warhol fans a window into the working habits of one of the most famous artists of the 20th century, a man known for painting Marilyn Monroe and Campbell's soup cans but whose artistic styles crossed many boundaries.
That window will open Saturday at Spencer Museum of Art, where dozens of Warhol photographs will go on display as part of "Big Shots: Andy Warhol, Celebrity Culture and the 1980s."
The photos feature many celebrities who helped make Warhol and his art famous.
"I think people don't know how much he relied on photographs," says Susan Earle, curator of European and American art at the Spencer. "I think people are intrigued. They're always interested to learn about an artist's working method. And he's so famous — he still captures people's imagination."
Past Event
When: Saturday, August 15, 2009, 10 a.m. to 4 p.m.
Where: Spencer Museum of Art, 1301 Miss., KU campus, Lawrence
Cost: Free
-->
-->
Sketches
The exhibition draws from a collection of photographs donated last year to the Spencer by the Andy Warhol Foundation, the organization in charge of the artist's estate.
Warhol's will asked only that his works be distributed throughout the art world for others to enjoy and learn from.
The foundation recently distributed 150 Warhol photographs each to more than 180 art institutions, including the Spencer.
The Spencer's new collection includes 100 Polaroid shots taken to help Warhol paint his portrait subjects and another 50 prints, mostly black and white, taken with a 35 mm camera. The photos date from 1970 to 1986.
The two types of photographs serve complementary functions.
First, the Polaroid shots acted as sketches of sorts.
"He had a preponderance of these commissioned portraits," Sokolowski says, referring to the paintings and screen prints of celebrities that helped to make Warhol famous. He was paid around $37,500 for a sitting later in his career.
"He would invite you to lunch, get you drunk so you would relax and then go around and take 30 to 40 portraits of you," Sokolowski says. "You wouldn't get a choice of which one he'd use (for the painting)."
And he always kept all of the sketch photos, which were taken with a large Polaroid Big Shot camera.
KU's collection of the Polaroid images includes photos of hockey great Wayne Gretzky, actress Joan Collins, artist Jean-Michel Basquiat and fashion designer Ernesto Esposito, among many others, some of whom remain unidentified by archivists.
"Think about if we had the same kind of complexity and diversity of materials from Rembrandt or Michelangelo," Sokolowski says. "My God, what we could tell about what they did."
Socialite
The second style of photography represented in the Spencer's Warhol collection was taken by a 35 mm camera outside the studio. Warhol often documented his interactions with his social circles, both on film and audio tape, Sokolowski says.
The Spencer collection includes candid shots of Calvin Klein and Brooke Shields together and artist Victor Hugo, among others.
Earle points to a quote from Warhol in describing his socialite photography: "A good picture is one that's in focus and of a famous person doing something unfamous."
"It's another way he became a more informal portraitist of the stars," Earle says.
15 minutes continues
Though he died in 1987, Warhol's fame remains.
"I think somehow his personality was kind of quirky," Earle says. "He was kind of shy and uncomfortable. He had very humble origins, and he became this big superstar. In some ways, he embodies the American dream, in a quirky way."
She notes that while Warhol's work resonates with those who were alive during his career, even KU students who are too young to have known Warhol during his lifetime are excited about the upcoming show, too.
Instead of simply displaying the photographs, the Spencer is trying to broaden the appeal of the show, Earle says. The museum will have an old-fashioned photo booth on hand for visitors to pose for their own portraits, a reminder that Warhol often would take celebrities and others to photo booths for their sketch photographs, before the days of the Polaroid.
The museum also is exhibiting works by other artists who specialized in celebrity portraiture, especially those who were contemporaries of Warhol.
While many of the Warhol photos that will be displayed weren't intended to be framed works of art, and rather works in progress, Sokolowski says he doesn't think Warhol would have minded the works being the centerpiece of an exhibition.
After all, Sokolowski says, why else would the artist have kept so many items from his life if he didn't think someone might get some use out of them someday?
"He knew he was a famous man," Sokolowski says. "He knew he was a very, very fine artist. I don't think he would have done boxes in the way he did them if he didn't think someone would learn something from them."
Copyright 2018 The Lawrence Journal-World. All rights reserved. This material may not be published, broadcast, rewritten or redistributed. We strive to uphold our values for every story published.