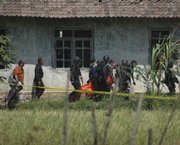 Beji, Indonesia — A leading Southeast Asian terrorist suspect reportedly killed Saturday in a gunbattle with police at a village hide-out was planning a suicide car bomb attack on Indonesia's president, the national police chief said.
Police said they could not confirm that the body recovered from the house in central Java was that of Noordin Mohammad Top until DNA tests are complete.
Noordin is suspected of having masterminded Southeast Asia's worst terror attacks, some with al-Qaida backing. If verified, his death would be a major victory in Indonesia's fight against Islamist militants blamed for five major bombings that killed 250 people, including attacks on Bali island in 2002 and 2005.
National police Chief Bambang Hendarso Danuri said Noordin and other militants had been plotting to bomb the home of President Susilo Bambang Yudhoyono.
Police on Saturday also raided a house on the outskirts of Jakarta where they killed two suspected militants and seized bombs and a car rigged to carry them, the police chief said. The house is three miles from the president's residence.
He said the decision to attack Yudhoyono was made at an April 30 meeting led personally by Noordin because of the government's decision to execute three convicted Bali bombers.
Yudhoyono told reporters he had been briefed about an ongoing operation "to uphold law and to eradicate terrorism," but made no mention of Noordin.
"I extend my highest gratitude and respect to the police for their brilliant achievement in this operation," he said.
Noordin is also suspected of planning last month's suicide bombings at the J.W. Marriott and Ritz-Carlton hotels in Jakarta that killed seven people and ended a four-year pause in terror strikes in Indonesia, the world's most populous Muslim-majority nation.
Noordin eluded capture for about seven years despite a massive crackdown by Indonesian authorities that netted more than 200 suspected militants. A Malaysian citizen, Noordin claimed in a video in 2005 to be al-Qaida's representative in Southeast Asia and to be carrying out attacks on Western civilians to avenge Muslim deaths in Afghanistan and Iraq.
Officers surrounded the central Java house late Friday after making arrests in a nearby town. At one point, they sent remote-controlled robots into the isolated building to search for bombs. Indonesian police have been met with booby traps and suicide bombers in at least one other previous raid on a terrorist hide-out.
Local TV stations reported that Noordin was killed in the 16-hour siege. The remains of a man thought to be Noordin were flown from the location to Jakarta for an autopsy.
"If Noordin M. Top was captured or killed, this would be extremely good news and a huge step forward for Indonesia's struggle against terrorism," said Jim Della-Giacoma, Southeast Asia project director for the International Crisis Group think tank.
"Whether or not the risk of further attacks declines depends on who else is arrested or killed with Noordin."
Noordin is also believed to have orchestrated an earlier attack on the J.W. Marriott Hotel in 2003 and a massive suicide truck bombing outside the Australian Embassy in 2004 which together killed dozens and wounded hundreds.
Those early attacks were blamed on the regional terrorist network Jemaah Islamiyah and funded by al-Qaida, but Noordin later broke away to form a more violent offshoot that supported targeting civilians. His foreign connections have since became uncertain.
Copyright 2018 The Associated Press. All rights reserved. This material may not be published, broadcast, rewritten or redistributed. We strive to uphold our values for every story published.