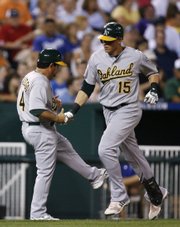 Kansas City, Mo. — Vin Mazzaro was happy to finally get a victory again.
Mazarro picked up his first victory since June 7— ending an eight-game losing skid — and Cliff Pennington had his first career three-hit game as the Oakland Athletics defeated the Kansas City Royals, 9-4, on Friday night.
"It's a good feeling," Mazarro said. "I almost forget what it feels like to win. It's awesome."
Mazzaro (3-8), who had a 7.72 earned-run average in nine starts since his previous win, gave up three runs and eight hits in five innings. He walked four.
"My confidence didn't really go down," Mazzaro said. "They're giving me an opportunity to do it here and it's awesome. I'm going to take advantage of everyday. This win definitely boosted my confidence for the next start."
A's manager Bob Geren said Mazzaro threw 23 balls and 23 strikes in his first 46 pitches.
"He didn't throw as many strikes as he needs to throw," Geren said. "We're fortunate we got him a lot of runs, and he did get a win, and it helps to boost a little confidence after the streak he was on is broken. He did have real good velocity and exceptional movement, so those are positives you can take from it. Hopefully, he'll get better next time out.
Pennington contributed two doubles, two RBIs and scored two runs. Scott Hairston drove in three runs, while Ryan Sweeney, who was in a 1-for-14 skid, homered in the eighth.
"A lot of times when a guy comes in the league, they test both sides of the plate to see what you can and can't do," Geren said. "They've been trying to pound him in and he turned on three balls down that right-field side. That's good. Teams watching will see he's getting to that pitch and try to go to the outer half. I've seen him cover the outer half in the past."
The A's sent 10 men to the plate in a five-run fourth to take a 7-1 lead. The inning included a two-run Pennington double and a two-run Hairston single. Jack Cust, who led off the inning with a single, scored on a Brian Bannister wild pitch. Bannister walked Tommy Everidge and Adam Kennedy that inning and both scored. Brayan Pena was also charged with a passed ball in the fourth.
Bannister (7-8) took the loss as he was charged with seven runs, matching his season high, on seven hits in four innings. In Bannister's previous outing, he threw a season-high 117 pitches in seven scoreless innings at Tampa Bay.
"After the last outing in Tampa I had what I call an arm hangover," Bannister said. "It was extra sore. I tried to get ready, but I honestly just didn't have it tonight. I didn't punch anybody out until that last batter and that's a sign. You can't rely on weak ground balls. You have to get the punch outs sometimes.
The Royals trimmed the Oakland lead to 7-4 with single runs in the fourth, fifth and sixth innings.
Copyright 2018 The Associated Press. All rights reserved. This material may not be published, broadcast, rewritten or redistributed. We strive to uphold our values for every story published.