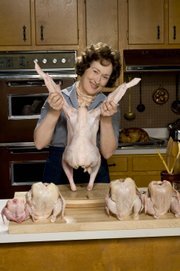 REVIEW **
Rating: PG-13, for brief strong language and some sensuality
Length: 2 hours, 3 minutes
Theater: Southwind Twelve, 3433 Iowa
-->
-->
Two movies battle for pride of place in "Julie & Julia," Nora Ephron's adaptation of memoirs by blogger Julie Powell and culinary legend Julia Child. As the old "Sesame Street" song put it, "One of these things is not like the other." Or, if you prefer musicals, there's always "Your Arms Too Short to Box With God."
Either way, Powell's whiny, sad-sack self-absorption is no match for Child's spirit, strength of character and joie de vivre, a fact made painfully clear in a movie that soars whenever Child (Meryl Streep) is on the screen and sags when Powell (Amy Adams) shows up, most often with a complaint about turning 30, having successful friends and living in bummed-out, post-9/11 New York.
As "Julie & Julia" opens, in 1949, Child and husband Paul (Stanley Tucci) are arriving in France, where the California-born Smithie will discover and deepen her true loves: for French food, French cooking, French culture and Paul himself. As is her wont, Streep nails Child's swooping vocal trill, although she lays on the horsy, matronly demeanor a bit thick. Still, hers is an earthy, altogether winning portrait of a woman grappling with ambition and self-doubt with a unique mix of passion, style and humor.
Intercut with Child's inspiring story is the insipid modern-day tale of how Powell blogs for a year about cooking recipes from Child's seminal book "Mastering the Art of French Cooking," a project that will result in fame, a book contract and a movie deal. Yippee. Ephron strenuously tries to draw parallels between her protagonists' struggles, but it's no use. Powell's arms are too short to blog with God.
Copyright 2018 The Lawrence Journal-World. All rights reserved. This material may not be published, broadcast, rewritten or redistributed. We strive to uphold our values for every story published.