Photo Gallery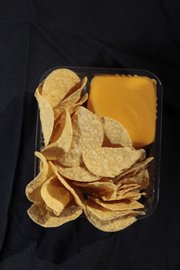 A fabulous feast of fair foods
When looking at these, remember, the average person needs around 2,000 calories and 65 grams of total fat a day. ** Data based on a 155-pound adult walking 3.0 mph (moderate pace). Source: Susan Krumm and Connie Detweiler, of K-State Research and Extension-Douglas County.
The carnival rides, concerts and demolition derby are big attractions at the Douglas County Fair.
And then there's the food: cheesecake on a stick, burgers, pretzels, shaved ice, lemonade, cotton candy, funnel cakes, sausages, onion blossoms and more. So much more. There are 17 food vendors with more than 100 items to choose from.
Indulging in such treats should be done in moderation, but that's hard to do when they come in super-sized offerings.
Susan Krumm, a nutrition educator for K-State Research and Extension in Douglas County, grimaced when she saw the popular footlong Texas-size Corn Dog and the heaping container of Texas Twister Fries.
"It's not like we can't have those curly fries, but share them. Share them with several friends, so you aren't gaining 5 pounds this week just at the county fair," she said. "Moderation is the key."
Copyright 2018 The Lawrence Journal-World. All rights reserved. This material may not be published, broadcast, rewritten or redistributed. We strive to uphold our values for every story published.