TENDER LOVE
What it is: Okra is a fruit native to Africa and Asia and is often used in African, Indian and Asian dishes, as well as in ones popular in the American South, like gumbo and fried okra.
Season: Peak season is June to August, but this summer it's coming in a bit late, local farmers say.
How to pick: Choose okra that are small and tender, not soft or bruised. If too soft or too large, they can be tough, according to Aliza Green and the "Field Guide to Produce." Okra is highly perishable and should be used as soon as possible.
How to store: Refrigerate okra for two to three days in a paper bag or wrapped in a paper towel inside a plastic perforated bag, says Green.
-->
-->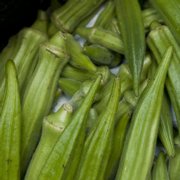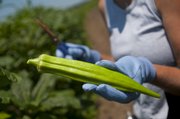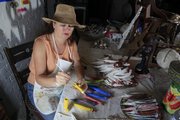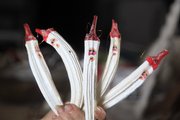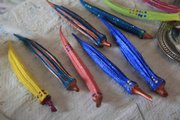 Fried and slimy: Two ends of the spectrum, but two words that stick to okra like egg wash and cornmeal.
Depending on who you ask, the little green fruit is either a sinful finger food or a squishy intruder into a dish.
If you ask April Naster, she'll say it's dinner during her shifts at Vermont Street BBQ, 728 Mass.
"We fry it up and we serve it with ranch (dressing). It's kind of lightly breaded and then fried, so it's not really crunchy," Naster says. "They just have awesome flavor to them, and they're kind of addicting. It's kind of difficult for me, actually, to go a shift without eating them."
The restaurant's fried okra is actually so popular that it was promoted from appetizer to premium side dish within the past year, Naster, a server, says.
"It's a little bit extra, but most people don't even mind paying 99 cents extra for it because it's that good," Naster says.
Stephanie Shelley, of Shelley Produce south of Lawrence, is also a fan of eating fried okra, but she says that because of how busy she gets during the fruit's high season — during the hottest part of the summer — she ends up freezing much of it, which she says works perfectly well for frying.
"It's not the best, it's not as good as fresh, but it works," Shelley says. "I go ahead and bread it and bag it up so I can just throw it in the deep fryer."
Going beyond the fryer
Also loving it fried — and really any which way — are Rebecca Snow and Stanley Lombardo.
Lombardo, a Lawrence Farmers' Market patron, will even eat okra raw. He say's it's in his blood: He grew up in New Orleans.
"Everybody knows to fry it. I love it pickled, oh God, yes. This is a while ago when I pickled it, and that was really good," Lombardo says. "And in gumbo, it thickens the gumbo really nice."
Eating it in an even more original way is Snow, who along with her husband, James, sells burgundy okra at Honey Hill Farm near Lawrence. She says she gets her love of okra from her dad, who enjoys it boiled.
"My dad likes it that way — it's fast, slimy. My dad's different," she says, laughing, before copping to liking it boiled, too. "I like okra all the ways. When it's small, I'll eat it raw."
This time of year, Snow is crawling on her hands and knees, picking okra almost often to avoid getting ones that have grown too large and are, therefore, too tough even for the biggest okra lovers. Though she says that with the burgundy variety she grows, excess size is less of a problem.
"It's more tender. Like with green okra, if it gets past a certain size, like if it gets real big, it'll get hard," Snow says. "The purple, it stays tender longer. We like it better."
Innovative use
But the most original use of what to do with okra comes not from how you cook it, but how you decorate it. Shelley's sister, Debi Taylor, sells 1,000 large okra a year by turning them into Christmas presents. Seriously — she makes 1,000 little okra Santa Clauses each year.
"I dry them first. Usually I lay them out on the attic floor or put them in the sauna," says Taylor, who runs Rangeland Herbs, northwest of Lawrence. "And then I turn them, with the cap part, paint them all white and turn them into a little Santa. And the long, curly part of the okra is like the beard that comes down."
For the past 10 years, the little okra Santas sell at the Holiday Farmers' Market, as well as at the gift shop at the Lawrence Arts Center and at various art shows. Taylor says that her yearly hobby, which starts in the summer with the drying and goes into the painting stage in the fall, began as a way to avoid wasting the fruit.
"(If) you don't cut it every day, they grow so fast they get tough," Taylor says of the okra plants. "So, it's the great big ones — I just couldn't stand throwing them away, so I started drying them. And I thought, what could I do with these, what could I do with these? And then suddenly it dawned on me that they look like a Santa head."
The patron saint of the fried and the slimy? Possibly.
OKRA RECIPES
New Orleans 'Best' Gumbo
6 cups water
1 package (1 pound) chicken gizzards, chopped
2 tablespoons seasoned salt
2 teaspoons parsley flakes
1 tablespoon garlic powder
1 tablespoon onion powder
1 teaspoon dried thyme leaves
1 teaspoon black pepper
1 teaspoon paprika
Dash of ground red pepper (cayenne)
1 large green bell pepper, chopped (1 1/2 cups)
1 large onion, chopped (1 cup)
5 cloves garlic, finely chopped
2 pounds uncooked turkey or beef sausage links, cut into 1-inch slices
1/2 cup vegetable oil
1 cup all-purpose flour
4 cups hot water
1 pound fresh or frozen chopped okra
1 package (6 ounces) frozen ready-to-serve crabmeat, thawed and drained
2 pounds fresh uncooked shrimp, peeled and deveined
1 can (8 ounces) regular or smoked oysters, drained
Hot cooked rice, if desired
In 8-quart pot, heat 6 cups water to boiling. Add gizzards, seasoned salt, parsley, garlic powder, onion powder, thyme, black pepper, paprika, red pepper, bell pepper, onion and garlic. Heat to boiling; reduce heat. Simmer uncovered 1 hour, stirring occasionally. Stir in sausage. Cover and simmer 1 hour, stirring occasionally.
Meanwhile, in heavy 2-quart saucepan, heat oil over high heat. Stir in flour; reduce heat to medium. Cook 15 to 20 minutes, stirring constantly, until mixture is dark brown; remove from heat.
Stir flour mixture into gizzard mixture until blended. Stir in 4 cups hot water, 1 cup at a time, stirring constantly. Stir in okra, crabmeat, shrimp and oysters. Heat to boiling; reduce heat to low. Simmer uncovered 5 to 10 minutes or until shrimp are pink and firm. Serve over rice.
— Recipe from www.bettycrocker.com
Louisiana Chicken and Okra Sauté
2 tablespoons oil
1 medium onion, halved, sliced
1 pound chicken breast strips for stir-frying
1 tablespoon dried Cajun seasoning
1/2 pound small whole okra, caps removed
2 tomatoes, seeded, coarsely chopped
Heat oil in 12-inch nonstick skillet over medium heat until hot. Add onion; cook 4 to 5 minutes or until tender, stirring occasionally.
Add chicken; sprinkle with Cajun seasoning. Cook 6 minutes, stirring occasionally.
Add okra; cook an additional 2 to 4 minutes or until okra is thoroughly heated and chicken is no longer pink in center. Add tomatoes; cook and stir until thoroughly heated.
— Recipe from www.pillsbury.com
Shrimp and Okra Creole
1 package (14 oz.) macaroni & cheese dinner
1/2 cup chopped green peppers
1/2 cup chopped fresh okra
1 pound cooked cleaned small shrimp
1 can (14-1/2 oz.) crushed tomatoes, undrained
1/2 teaspoon hot pepper sauce
Prepare the macaroni and cheese in large a saucepan as directed on package.
Meanwhile, cook and stir green peppers and okra in nonstick skillet sprayed with cooking spray until crisp-tender.
Add green pepper mixture to prepared dinner along with the shrimp, tomatoes and hot pepper sauce; mix lightly. Cook on medium heat until heated through, stirring occasionally.
— Recipe from www.kraftfoods.com
Copyright 2018 The Lawrence Journal-World. All rights reserved. This material may not be published, broadcast, rewritten or redistributed. We strive to uphold our values for every story published.