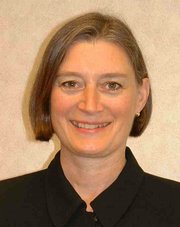 Mitzi McFatrich, executive director of Kansas Advocates for Better Care
McFatrich said there is proposed legislation that would allow for and make readily available to the public more transparency of information about corporate owners of nursing homes, the nursing care provided in a specific facility, the inspection deficiencies cited and the civil monetary penalties incurred by nursing homes and assisted living facilities in Kansas and across the nation.
"This is all very significant information for persons who are choosing a place to receive long-term care and for their family members who are assisting in their care. It would be our No. 1 concern for health reform."
McFatrich would like to see the cost of health care insurance be more affordable for all Americans, especially those between the ages of 55 and 65, those with pre-existing conditions and women of childbearing age because these groups tend to face higher insurance costs.
"The primary problem of the current health care system is that not everyone has access to health care or to insurance coverage for health care. For older adults to receive help with long-term care they spend all their resources so that they are impoverished," she said.
"Currently, Medicaid long-term care coverage only covers care completely in nursing homes, not in assisted living facilities. This drives consumers to nursing homes at a higher cost to taxpayers when they might better thrive in assisted living or with more help in their own homes."
McFatrich's concern is that any reform won't address what is needed to actually give Americans a workable system from prenatal through end-of-life health care.
"(I am worried) that Congress will pass legislation that puts a Band-Aid on the current system, rather than reforming the system," she said.
Copyright 2018 The Lawrence Journal-World. All rights reserved. This material may not be published, broadcast, rewritten or redistributed. We strive to uphold our values for every story published.