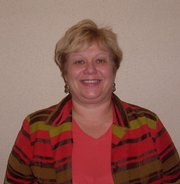 Judy Bellome, executive director of Douglas County Visiting Nurses, Rehabilitation and Hospice Care
Bellome said the current health care system's biggest flaws are that it is too expensive and does not cover all citizens. In addition, there is very little coverage for prevention.
She would like to see those problems addressed in any legislation, as well as a plan that addresses home health and hospice services. She said using such services saves money by avoiding or delaying hospitalizations and nursing home placement.
"Unfortunately, there is a current house bill that recommends a $51 billion cut to home health over a 10-year period. If that part of the bill passes, the whole home care industry is in danger," she said.
Bellome's biggest fear is that no health care reform will occur "because of a stalemate due to lack of vision and compromise between the Republicans and Democrats."
Copyright 2018 The Lawrence Journal-World. All rights reserved. This material may not be published, broadcast, rewritten or redistributed. We strive to uphold our values for every story published.