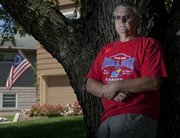 Jerry Kemberling, Unemployed, Lawrence
Kemberling, 63, was laid off in February, and has had trouble finding affordable health insurance.
He said the government COBRA program, which allows workers to retain insurance for 18 months after losing a job, was too expensive. It was going to cost him and his 62-year-old wife, who doesn't work, $1,039 a month.
They looked at private health insurance. He said they found some for $700 a month, but it didn't cover much and there was a $10,000 deductible.
Luckily, the American Recovery and Reinvestment Act approved in mid-February has allowed Kemberling to continue COBRA at $368 a month, through November.
"Unless you are employed with a good health care plan or you're young and with no medical issues, you can't afford health care."
Of course, Kemberling would like to see affordable health insurance offered to everybody, including people with pre-existing conditions. Kemberling said he was denied coverage because of a shoulder surgery 15 years earlier.
"It's rationed right now in a very nasty way," he said.
Kemberling thinks health insurance should be required, much like car insurance.
His biggest fear is that he will become uninsured in November.
"I am just afraid they are going to water anything they do down so much that it isn't going to help any of us," he said. "Our present system is just totally unacceptable. It just discriminates terribly."
Copyright 2018 The Lawrence Journal-World. All rights reserved. This material may not be published, broadcast, rewritten or redistributed. We strive to uphold our values for every story published.