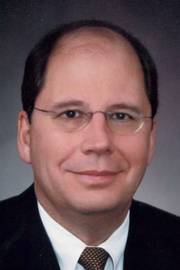 Gene Meyer, CEO/president, Lawrence Memorial Hospital
"I think the biggest problem is the uninsured and how do we care for the uninsured and make sure that they have access to care without penalizing the rest of the system."
Meyer said another problem is that under current health insurance programs, insured people pay only a minor portion of health care costs.
He said the current system doesn't support personal accountability.
"So, you have the uninsured, the people who are sheltered from the true costs of health insurance and you've got the lack of support for personal accountability — all of these combined creates some monumental system issues that this country is facing," he said.
Meyer's biggest concern is that reform will happen too quickly and will bring massive, unintended consequences.
He believes that some form of a public insurance plan likely will be approved. When that happens, he said the shortage of health care providers will be exacerbated.
"I mean today, the uninsured receive — and I am not saying that this is right — but I am saying today that the uninsured receive half the amount of health care that the insured receive. If suddenly that uninsured population receives health insurance and they then utilize that health insurance to the same extent that the current insured population does, our system will go on overload," he said. "There has not been enough dialogue through Washington about expanding manpower issues."
"If we don't deal with that first and we overload the system, the system and the people who are currently very pleased with health care are going to be very, very concerned in the future."
Copyright 2018 The Lawrence Journal-World. All rights reserved. This material may not be published, broadcast, rewritten or redistributed. We strive to uphold our values for every story published.