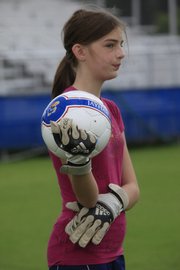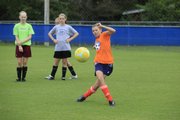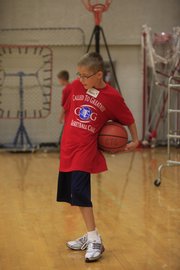 Sometimes you just know a kid is going to become a pro athlete.
That's what Kansas University team physician Dr. Jeffrey Randall thought when he saw Kyle Vaubel playing American Legion baseball in Oklahoma the late 1980s.
"Right off the bat you could just see it," says Randall, who was serving his residency at the time. "He was only 12 years old, but he already had that little 'it' factor. He could throw better and run faster than all the other kids his age."
But it wasn't Vaubel who would make it to the pros. It was his teammate, Tim Pugh — a kid neither Randall nor anyone else would have bet on for a career in the majors.
"There was a draft in their league, and Tim was a low pick," Randall recalls. "He was lanky and a little awkward. But he kept developing. By the time he was in high school, it was a different story. He had the body and the mechanics, but he also had the mental side of it."
Both Pugh and Vaubel landed baseball scholarships at Oklahoma State University. But Vaubel gave up the game his freshman year to concentrate on his studies. Pugh went on to pitch six seasons in the majors with Cincinnati, Detroit and Kansas City.
For Randall, the story shows how difficult it can be to know if a child has what it takes to be a sports star, even in an age when young athletes are being recruited earlier and earlier.
"You can spot basic coordination, strength and speed at an early age," he explains. "The most difficult thing to spot is desire and mental determination."
This is also the most difficult thing to nurture.
"There's no formula," he says. "But the key is to ensure that the kid continues to have fun."
It's also important to pay close attention to how a young athlete responds to injuries. If an athlete pulls a muscle or twists and ankle but he or she is still raring to go, this is a pretty good indication that they have the determination it takes to develop into pro material.
This is important because practice is just as important — if not more important — than natural ability when it comes to developing as an athlete.
Andrea Hudy, assistant athletic director for sports performance at KU, points to recent research by Istvan Balyi, professor of human kinetics of the University of Ottawa in Canada, which suggests that in order to become an elite athlete, one must put in 10,000 hours of practice.
"That's slightly more than three hours a day for 10 years," Hudy says.
Balyi's research also outlines a five-stage model for long-term development of athletes:
1. Fundamentals. Here, fun is the name of the game. Young athletes develop their motor skills through tried and true playground games like kickball, dodgeball and swinging on the jungle gym.
2. Training to train. As athletes move into junior high, they become accustomed to training schedules by joining teams and attending daily practices. Here they hone their running and motor skills.
3. Training to compete. In high school, athletes begin focusing on competition, learning tactical skills necessary to obtaining victory.
4. Training to win. At the college and pro level, it's all about being the absolute best you can be — and, hopefully, better than everyone else.
5. Post-career. After glory has been achieved, the goal is to maintain a love for athletics and fitness.
For young athletes, those in the fundamentals stage, it's important to remember your ABCs, Hudy says: agility, balance and coordination. Here again, fun is the top priority. By playing a wide variety of games that require physical activity, young kids can quickly develop the skills and strength they'll need later on.
This quest of variety shouldn't end there, however.
"It's important for young athletes to cross-train," Randall says.
He recommends kids play as many different sports as possible. For one, it's fun. More importantly, it reduces risk of career-altering injury.
"People tend to overspecialize" in one sport or another, such as baseball or basketball as opposed to both, says Brady Holt, assistant strength conditioning coach for KU. "And by the time we get them, they're already wrecked from overuse."
Athletes shouldn't specialize in sports until their epiphyseal plates, or growth plates, are closed. These are the thin plates of cartilage between long bones in the body. When those bones stop growing, they become less susceptible to injury from overuse. But if these plates are damaged before they close, the resulting injury can become chronic and essentially limit an athlete's career.
"We see that every year," Randall says. "Kids focus on one sport, one activity, and they get hurt. So with a little kid, it's better to just let them play lots of stuff."
That's a sentiment echoed at the high schools, as well.
"We absolutely do not promote specialization," says Mike Hill, athletic director at Free State High School. "I think it's to the detriment of the individual, and it's detrimental to the team."
Hill has another theory when trying to determine if a young child could someday be a superstar: Don't bother.
"There are too many things that any particular child has yet to experience," Hill says. "Even at the high school level, most kids haven't gone through the maturity process."
Copyright 2018 The Lawrence Journal-World. All rights reserved. This material may not be published, broadcast, rewritten or redistributed. We strive to uphold our values for every story published.