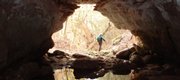 From hidden caves that welcome visiting bats to massive deposits of salt, oil and natural gas that fuel the economy, the Sunflower state boasts a subtropolis of fascinating features, vast resources and untapped opportunities. Join us for a look around underground.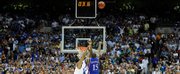 The Lawrence Journal-World looks back at the men's basketball season of 2007-2008, in which the Jayhawks claimed the NCAA championship title for the first time in 20 years and its third ever.
The Lawrence Journal-World and LJWorld.com on Monday won their third consecutive Associated Press Managing Editors Convergence Award.
"Underground Kansas," which was reported, edited and produced by Mark Fagan, Nick Nelson, John Henry, Jonathan Kealing and Caroline Trowbridge, is an in-depth, multimedia look at off-limits sites, valuable resources and other features that exist beneath the state's surface.
This award follows top APME Convergence Awards for 2007's "Mining's Legacy: A Scar on Kansas" and 2008's "Self-Made Champions," an interactive review of the Kansas Jayhawks' national championship season.
Copyright 2018 The Lawrence Journal-World. All rights reserved. This material may not be published, broadcast, rewritten or redistributed. We strive to uphold our values for every story published.