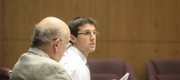 More coverage of the trial of a former Kansas University student accused of beating and kidnapping his ex-girlfriend.
Jaeger Trial Updates, Via Twitter
A longtime friend of the defendant in a kidnapping and battery trial testified Monday that the victim willingly left her apartment with the defendant.
"She was willing to get in the car," said Evan Carroll, a 24-year-old Illinois man.
Carroll said he and defendant Matthew Jaeger were trying to take Jaeger's ex-girlfriend to the hospital because she was injured.
However, during several hours of testimony, Carroll also told jurors that earlier he watched as Jaeger — who's been his friend since kindergarten — broke the glass on the window of his ex-girlfriend's apartment and climbed inside.
"He broke through it and then went foot over foot into the apartment, and that's when I personally got nervous," Carroll said.
Prosecutors allege that Jaeger, 24, who is a former Kansas University student, on that night attacked his ex-girlfriend, who is now 23. They claim he severely mutilated her vagina and pelvic region and dragged her from her Lawrence apartment after he found her with another man on Oct. 9, 2007. He faces charges of aggravated kidnapping, aggravated battery, aggravated burglary and making a criminal threat.
Jaeger's defense attorneys, however, have said he found the woman injured and was trying to help her.
Carroll's statement that he saw Jaeger break a window and enter her apartment contradicts what Jaeger told police in a video-taped interview. During that interview, which jurors saw on Friday, Jaeger said he never went inside the apartment.
'Nervous'
Prior to going to the victim's Lawrence apartment, Carroll testified that the two had been at All-Stars, a strip club in North Lawrence, for at least four hours, where Carroll said he had consumed 10 shots of alcohol.
At the victim's apartment, Carroll said, he was standing outside the car smoking a cigarette when he saw a man he didn't know run from the apartment. He testified that he then backed into a parking spot, when he heard a commotion coming from the apartment.
"I was sitting in that spot, listening to screaming and yelling and a lot of noise, and I was very nervous," Carroll said. "As soon as the noise stopped, I felt I needed to get out of the car and go see what the situation was."
Carroll told prosecutors he ran into the apartment as fast as he could. When he turned into the back bedroom he saw Jaeger and the victim on the bedroom floor, with the defendant hunched over the woman.
The three then left the apartment and Carroll, who was not familiar with Lawrence, said he assumed they were going to the hospital.
"(The victim) was voicing that she was hurt, that she was bleeding from inside and that she needed help," Carroll testified.
Carroll denied that the men kidnapped the woman, which is contrary to what two witnesses said they saw at the apartment complex. Katelyn Hall and her boyfriend, Troy Gower, have testified that they saw two men pulling a woman down the stairs by her arms and her hair before forcing her into a car and speeding off.
As Jaeger and the victim got into the car, Carroll said, "I heard him say that 'you were my girl.'"
Carroll was not charged in connection with the incident.
Police stop
The victim in the case testified earlier in the trial that Jaeger broke into her apartment, angry because she was with another man.
She said he choked her until she was unconscious, and she woke up with severe injuries to her vagina and pelvic area.
Prosecutors on Monday also played a recording for the jury of three voice mail messages that Jaeger left on the victim's cell phone between 12:47 a.m. and 1:03 a.m., right before the incident took place.
"(Expletive), I'm pissed," Jaeger can be heard saying. "Don't ever not pick up my phone calls … let's go, you and me, right now."
But defense attorney Pedro Irigonegaray read dozens and dozens of text messages sent from the woman to Jaeger's phone and said that not a single message mentioned violence.
Lawrence police officer Todd Polson, who stopped Jaeger's car that night, testified that Jaeger's car drove within a block of Lawrence Memorial Hospital on Michigan Street, and was headed away from the hospital when it was stopped near Sixth and Florida streets.
Polson also said he initially responded to the kidnapping call and believed it was college kids joking around. However, when he approached the car, he saw Carroll in the front seat. Jaeger, who was in the back seat, had blood on his shirt, and Polson noticed blood on the woman, who was sitting next to Jaeger.
"The seriousness of the call went up exponentially," Polson said.
The officer's testimony will continue at 9 a.m. Tuesday. Monday was the fourth full day of testimony, and Chief District Judge Robert Fairchild has said he expected jurors would be able to begin deliberations some time next week.
Copyright 2018 The Lawrence Journal-World. All rights reserved. This material may not be published, broadcast, rewritten or redistributed. We strive to uphold our values for every story published.