On the street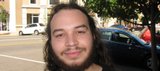 Yes, a cat. … I gave her some food, she came back and then she never left.
Photo Gallery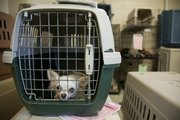 Lawrence Humane Society nearing capacity
The Lawrence Humane Society received another 42 dogs on Saturday from the state, and now the shelter is desperately crowded.
That's why it's cutting adoption fees in half for August.
"We needed to do something drastic because we all know what the end result is if we don't get them out of here," said Humane Society executive director Midge Grinstead.
Regular adoption fees are $110 for dogs and $95 for cats. This month, pets can be adopted from $40 to $60.
"With the economy being a little tough, we are not adopting out as many animals as we normally would," Grinstead said.
The economy, coupled with summer being the major breeding season, is a big reason why the shelter is also seeing more animals coming in.
"It's not, 'Hi, I'm moving and I have 12 cats I need to give you,'" Grinstead said. "It's 'I've lost everything and now I'm giving up my buddy.'"
The shelter is using crates and collapsible kennels for its newest influx of dogs, most of which are small.
"The crates are the correct size for them, but we don't like using them," Grinstead said. "We need them to feel comfortable and get exercise."
Grinstead said almost everyone on her staff who could foster a dog was doing so, and the crowding is causing stress.
"I do not want to euthanize for space reasons. We haven't done that since 2000," Grinstead said. "We're about that close to having to do that."
The Lawrence Humane Society, 1805 E. 19th St., is open Tuesday through Friday from 11:30 a.m. to 6 p.m., Saturday from 11:30 a.m. to 5 p.m. and Sunday from 1 p.m. to 4 p.m.
Copyright 2018 The Lawrence Journal-World. All rights reserved. This material may not be published, broadcast, rewritten or redistributed. We strive to uphold our values for every story published.