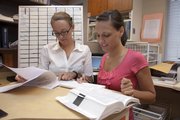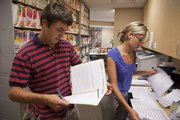 It's a place where a Kansas University physical therapy student can hear a lecture about torn ACL tendons in the morning, and then have the chance to help patients recover from them that same evening.
The JayDoc Free Clinic in Kansas City, Kan., matches medical students eager to gain clinical experience with indigent patients just as eager for medical care. In place since 2003, the clinic has taken on a larger role in recent years — helping more patients, offering more services and involving more students.
Student and doctor volunteers have expanded the clinic's availability — it operates on Monday and Wednesday nights now, up from once a week at its inception.
On Tuesday nights, the clinic offers "specialty nights," with students providing specialized care in areas such as diabetes, physical therapy and women's health care on rotating weeks.
Kourtney Bettinger, a second-year medical student from Louisburg and a co-executive director of the clinic, said the clinic offers free care to everyone, and does not check income or other eligibility requirements. Patients come in the door at the Southwest Boulevard Family Health Clinic in Kansas City, Kan., after 5 p.m. and are interviewed by medical students.
The patients are then sorted out by a triage system, so that the clinic can assess which of them it can most effectively treat based on need and availability of services.
"If we can't help them, we want to get them out as soon as possible for their own sake," Bettinger said.
The clinic has a couple of fundraisers each year, but is mostly dependent on grants, Bettinger said.
Joshua Freeman, professor and chairman of family medicine at KUMed, also serves as a co-faculty adviser to the clinic.
He estimated that the clinic has grown such that now, about one-half to two-thirds of all KU medical school students have volunteered time there.
The number of patients, too, has grown recently, as the clinic still sees a number of people with no insurance — or "lousy insurance," Freeman said.
"In Kansas, it's more of a problem than in other states," he said, as Kansas doesn't have a public health care system. "We are dependent on our community health clinics."
For students looking to gain clinical experience — something that's typically lacking in the first two years of medical education, which focuses on basic science — the free clinic offers an opportunity to do that, Freeman said.
Bettinger recalled once doing something for a patient that she literally learned that day in school.
"I think it's made me a lot more comfortable with patients," she said.
The clinic also offers assistance with social services, and often refers people who come through its doors elsewhere for more assistance. Other academic areas of KU have also assisted, including law school students who visit the Southwest Boulevard clinic to offer legal help on medical-records issues and other matters.
Linda Denney, a clinical instructor of physical therapy in KU's School of Allied Health, is the physical therapy director at JayDoc. She estimated about a third of the physical therapy students at KU volunteer there, and it's time usually well-spent.
For specialty services such as physical therapy, patients can schedule follow-up sessions, she said.
With the demand for their services always increasing, the waiting list continues to grow, Denney said. She recalled one patient who had insurance, but couldn't afford a $40 co-payment for a doctor's visit.
The physical therapy program operates on doctors' referrals, she said.
"We're expanding now," she said, as clinics continue to refer patients to the specialty center. "We're full, but we'll continue to see patients on a follow-up."
Copyright 2018 The Lawrence Journal-World. All rights reserved. This material may not be published, broadcast, rewritten or redistributed. We strive to uphold our values for every story published.