Sue Romero and her husband, Rick, pictured a healthy, mature, long-living windbreak when they planted more than 100 Austrian pines at their home just south of Lawrence.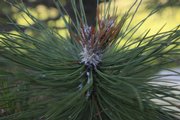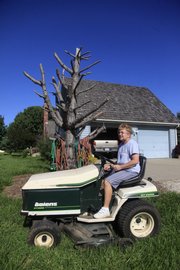 Now, 20 years later, the Romeros are removing pines one by one as the trees succumb to tip blight disease and environmental stress. Tip blight is just one of three diseases killing Austrian and Scots pines in the Midwest.
Tip blight, pine wilt and dothistroma needle blight are especially problematic in the Midwest because of temperature and moisture fluctuations. Pines are not native to Kansas and prefer environmental conditions that more closely resemble their native habitat.
Romero will be the first to tell you how hard it is to cut down a dying tree even though she knows that doing so will help slow the spread of the disease.
"I'm emotionally attached to the trees," Romero says. "I love the sound of the wind moving through the branches."
The Romeros have removed about 25 of their Austrian pines over the last five years and are carefully taking out the entire tree and stump each time. They are well aware that dead pine trees, stumps and even cut and stacked pine wood can become reservoirs for disease and disease-transmitting insects.
Stunted brown shoots, branch dieback and black specks on pine cones are common signs of the tip blight disease that also affects Scots pines. Romero watches for these signs and for large patches of dried sap or resin on the trunk and branches that are indicative of cankers caused by the same fungus.
Romero thinks they have avoided the most serious of the pine diseases, pine wilt, by removing the diseased branches and trees as soon as they appear. Pine wilt is more common on Scots pines, killing trees within weeks or months of infection, but occasionally affects Austrian, white and mugo pines. New pine wilt infections are most apparent from August to December.
Pine trees that die rapidly should be cut down as soon as possible to help slow the spread of pine wilt. Pine sawyer beetles overwinter in dead pines and emerge in spring to carry a tiny worm called a nematode to new trees. The nematode colonizes in the tree and causes pine wilt. The disease is common in the eastern half of Kansas and is slowly spreading into the western part of the state.
The third disease commonly affecting pines in northeast Kansas is Dothistroma needle blight. Dothistroma will only kill a tree after years of repeated infection, but also causes stress on the tree as needles drop prematurely and is most common on Austrian pines.
Romero's latest concern is what to plant as a replacement for the pine trees she has already removed. The Kansas Forest Service recommends Eastern red cedar, Upright Chinese juniper, Limber pine, Black Hills spruce and Norway spruce. Since each of the recommended tree species comes with its own list of potential problems, planting a mix of several different species and varieties of trees is the best bet for a healthy windbreak for years to come.
— Jennifer Smith is the Douglas County Extension Agent–Horticulture for K-State Research and Extension. Contact her or an Extension Master Gardener with your gardening questions at 843-7058 or dgemg@sunflower.com.
Copyright 2018 The Lawrence Journal-World. All rights reserved. This material may not be published, broadcast, rewritten or redistributed. We strive to uphold our values for every story published.