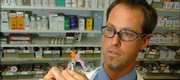 An outbreak of H1N1 Swine Flu was reported in Mexico in April 2009. By the end of May, it had spread across the U.S., with all 50 states reporting cases.
The level of panic about swine flu seems to be rising as more cases are reported worldwide.
The World Health Organization raised the alert level to one notch below a full-fledged global pandemic on Wednesday. Confirmed cases have spread to 11 states, including two in Kansas. The U.S. also reported its first death.
While Lawrence Memorial Hospital officials are monitoring the situation, they said there is no reason to panic. Jeff Novorr, LMH vice president, said Wednesday that there have been no confirmed cases of swine flu in Lawrence or Douglas County, despite rumors.
"We are not seeing anything in our community yet to make us believe that there is any big uptick in terms of flu cases," he said.
Novorr said the number of people being tested for flu is down by about one-third compared to what's typical this time of year. Flu is on the hospital's radar at all times.
About 36,000 people die annually from seasonal influenza in the U.S. "The flu is something that given all the right circumstances can cause somebody to die," Novorr said. "I know that the experts expect that there will be more, but at this point it's one, so we want to keep it in perspective."
The hospital has instituted its pandemic plan. The staff is:
• Monitoring supplies.
• Taking extra precautions to stay healthy.
• Encouraging visitors to wash their hands.
• Asking people to wear a mask if they have flu-like symptoms.
The hospital started a phone line for the latest information locally. The number is 505-2327.
"If we need to make a change in response to what's happening in the community, we will be able to do that very quickly and seamlessly," Novorr said.
Copyright 2018 The Lawrence Journal-World. All rights reserved. This material may not be published, broadcast, rewritten or redistributed. We strive to uphold our values for every story published.