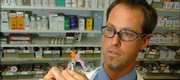 An outbreak of H1N1 Swine Flu was reported in Mexico in April 2009. By the end of May, it had spread across the U.S., with all 50 states reporting cases.
New York — The global swine flu outbreak worsened Tuesday as hundreds of students at a New York school fell ill and federal officials said they expected to see U.S. deaths from the virus.
Cuba suspended flights to and from Mexico, becoming the first country to impose a travel ban to the epicenter of the epidemic. The mayor of the capital cracked down further on public life, closing gyms and swimming pools and ordering restaurants to limit service to takeout.
Confirmed cases were reported for the first time as far away as New Zealand and Israel, joining the United States, Canada, Britain and Spain.
Swine flu is believed to have killed more than 159 people in Mexico, and the Centers for Disease Control and Prevention said the U.S. has 66 confirmed cases in five states, with 45 in New York, one in Ohio, one in Indiana, two in Kansas, six in Texas and 11 in California.
"I fully expect we will see deaths from this infection," said Richard Besser, acting director of the CDC.
That was echoed by Homeland Security Secretary Janet Napolitano.
President Barack Obama asked Congress for $1.5 billion in emergency funds to fight the illness.
In New York, there were growing signs that the virus was moving beyond St. Francis Preparatory school, where sick students started lining up last week at the nurse's office. The outbreak came just days after a group of students returned from spring break in Cancun.
Still, U.S. officials stressed there was no need for panic and noted that flu outbreaks are quite common every year. The CDC estimates that about 36,000 people in the United States died of flu-related causes each year, on average, in the 1990s.
Copyright 2018 The Associated Press. All rights reserved. This material may not be published, broadcast, rewritten or redistributed. We strive to uphold our values for every story published.