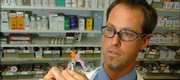 An outbreak of H1N1 Swine Flu was reported in Mexico in April 2009. By the end of May, it had spread across the U.S., with all 50 states reporting cases.
Manhattan, Kan. — Kansas State University plans to obtain a sample of the new swine flu virus and do research on it by injecting it into pigs, a professor at its veterinary college said Wednesday.
Juergen Richt, professor of diagnostic medicine and pathology, disclosed the plans during a panel discussion about the virus. Kansas State researchers are working with the U.S. Centers for Disease Control and Prevention in Atlanta.
Kansas State is home to a biosecurity research institute that studies plant and animals diseases. The U.S. Department of Homeland Security is planning to build a new biodefense lab there to study diseases dangerous to humans and livestock.
The flu virus has killed more than 150 people in Mexico and sickened dozens of people in the United States, including a married couple in Dickinson County.
In Topeka, Dr. Jason Eberhart-Phillips, the state health officer, told the House and Senate health committees that Kansas doesn't yet need to recommend "social distancing" steps such as canceling public events attended by large crowds.
He said the Kansas Department of Health and Environment would ask a school or day care to close for a few days if a student had a confirmed or suspected case of swine flu.
"We're not there yet," Eberhart-Phillips said. "But it's something that we're asking our partners in schools around the state to be prepared for and to be thinking about."
The outbreak is stretching KDHE's resources, partly because of increased demands on its laboratories.
KDHE Secretary Rod Bremby told legislators the department will ask the governor for additional funds, but an exact amount won't be known until at least Friday. Some additional federal dollars also may be sent to states, but Bremby said it's not clear how much and when.
Kansas has 300,000 courses of the drugs Tamiflu and Relenza in its own stockpile and has received an additional 100,000 courses from the federal stockpile.
Senate Health Committee Chairman Jim Barnett, an Emporia Republican who is also a physician, said he had prescribed Tamiflu to one patient who was traveling. Emporia has a large Hispanic population, heightening local health care providers' awareness.
Barnett said the outbreak reminds legislators of the need for adequate resources for public health services.
At Kansas State, Richt said researchers lack information about the genetic composition of flu viruses that have circulated in recent years in Mexico, which would be valuable in developing vaccines or treatments.
Researchers said during the panel discussion that it was slightly misleading to describe the new virus as swine flu, because it also has incorporated genetic material from birds and humans. And, they said, the virus doesn't appear to be circulating among swine.
So far, U.S. cases appear to involve people who have traveled to Mexico and had contact with sick people there. In the Dickinson County cases, the man traveled to Mexico for a business trip, returned home ill, and passed the virus to his wife.
The Kansas researchers are worried the virus could start passing from humans to swine, making it more complicated to address.
Veterinarian Steve Henry said swine have their own seasonal viruses and when they catch something new from humans, it creates the possibility for a new form of what is already a dangerous disease.
"It just adds a layer of complexity to what is already the most complex disease known," Henry said.
Meanwhile, Livestock Commissioner George Teagarden attempted to dispel rumors circulating that swine operations in the state have been quarantined.
Teagarden, who heads the Kansas Animal Health Department, said in a statement that the virus has not be found in any swine in the U.S.
Kansas State researchers said the flu affects the animals' respiratory systems, much as it does in humans, but doesn't pose any danger if the meat is consumed.
And Sen. Pat Roberts said during a Senate hearing in Washington that calling the virus swine flu was "doing a disservice" to livestock producers.
"Call it what it is — the H1N1 virus," said Roberts, a Kansas Republican. "Quit trying to blame it on farmers and ranchers and current production practices. These claims do not hold water."
He said the decision by Egypt to destroy its swine herd was an example of overreaction based on bad information.
Copyright 2018 The Associated Press. All rights reserved. This material may not be published, broadcast, rewritten or redistributed. We strive to uphold our values for every story published.