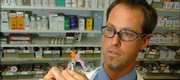 An outbreak of H1N1 Swine Flu was reported in Mexico in April 2009. By the end of May, it had spread across the U.S., with all 50 states reporting cases.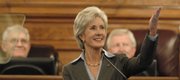 Kathleen Sebelius is the nominee for Secretary of Health and Human Services in Obama's Cabinet. She has served as Kansas' governor since 2002 and before that was insurance commissioner and a state representative.
Washington — Backers of President Barack Obama's pick for health secretary urged quick action on the nomination Tuesday, arguing that the swine flu outbreak underscored the need to have agency leaders working on the federal response.
The Senate opened debate on Kathleen Sebelius, the two-term Democratic governor of Kansas tapped to head the Department of Health and Human Services.
"It is essential for the health of the nation that President Obama has in place, and the nation has in place, a strong secretary of HHS to make sure our federal efforts on this potential pandemic are able to coordinate," said Sen. Mark Warner, D-Va.
An afternoon vote was scheduled to confirm Sebelius. She was expected to get the 60 votes needed in the Democratic-led Senate, though perhaps with little margin to spare.
Anti-abortion groups have been lobbying Republican senators to vote against Sebelius, criticizing her support for abortion rights and her ties to a late-term abortion doctor who donated to her campaigns. Sebelius initially underreported to senators the size of those donations, though she apologized and said it was an inadvertent error.
Republican Sen. Tom Coburn of Oklahoma said Sebelius' position on abortion amounted to a "critical flaw" and he would vote against her nomination.
If confirmed, Sebelius would face an immediate challenge with the spread of swine flu. With no HHS secretary in place, the White House has turned to Homeland Security Secretary Janet Napolitano to help lead its response, even while insisting that vacancies at the top of HHS were not a problem.
Senators also want to get Sebelius in place to help shepherd Obama's overhaul of the nation's $2.5 trillion health care system to reduce costs and cover some 50 million uninsured Americans.
Sebelius would be the first of 20 HHS officials requiring Senate approval, and if confirmed, she would head to work without much of a team. The Senate hasn't acted on Obama's nominees for deputy HHS secretary or commissioner of the Food and Drug Administration, and Obama hasn't even nominated people for other key jobs, including surgeon general and assistant secretary for preparedness and response.
The process suffered a setback when Obama's first pick for HHS secretary, former Sen. Tom Daschle of South Dakota, withdrew in February over unpaid taxes. Sebelius is the last of Obama's Cabinet nominees awaiting confirmation.
Copyright 2018 The Associated Press. All rights reserved. This material may not be published, broadcast, rewritten or redistributed. We strive to uphold our values for every story published.