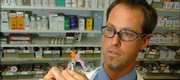 An outbreak of H1N1 Swine Flu was reported in Mexico in April 2009. By the end of May, it had spread across the U.S., with all 50 states reporting cases.
Mexico City — Ominous developments Monday in the swine flu epidemic — a jump to 149 deaths and more signs that the virus can jump repeatedly from human to human — prompted the World Health Organization to raise its pandemic alert level, and governments around the world were taking tougher measures.
The virus has already spread to at least a half-dozen countries and half of Mexico. Trying to eliminate crowds, the Mexican government canceled school nationwide and considered closing the capital's subway system.
"We are at the most critical moment of the epidemic. The number of cases will keep rising so we have to reinforce preventive measures," Health Secretary Jose Angel Cordova said.
WHO said the new phase 4 alert means sustained human-to-human transmission is causing outbreaks in at least one country, signaling a significant increase in the risk of a global epidemic, according to Mexico health department spokesman Carlos Olmos. Phase 4 doesn't mean a pandemic is inevitable, but many experts think it may be impossible to contain a flu virus already spreading in several countries.
The Mexican government has yet to say where and how the epidemic began.
Copyright 2018 The Associated Press. All rights reserved. This material may not be published, broadcast, rewritten or redistributed. We strive to uphold our values for every story published.