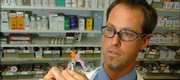 An outbreak of H1N1 Swine Flu was reported in Mexico in April 2009. By the end of May, it had spread across the U.S., with all 50 states reporting cases.
Topeka — Both the state and Fort Riley have established hot lines for Kansas residents, soldiers and veterans who may display symptoms of swine flu.
The state's toll-free number is 1-877-427-7317.
Two people in Dickinson County are the only Kansas residents confirmed as having contracted the flu, which has killed at least 152 people in Mexico. The U.S. has 50 confirmed cases, but no deaths have been reported.
Both the Kansas Department of Health and Environment and Fort Riley's Irwin Army Community Hospital have established hot lines. The state hot line, announced Tuesday, is for residents who want information about swine flu. Fort Riley's hot line is for soldiers, their family members and veterans to report if they have symptoms.
Dickinson County is near Fort Riley, though the two Kansans confirmed with swine flu did not work at the installation. The northeast Kansas Army post is considered by some to be the epicenter of a 1918-19 flu pandemic that killed millions worldwide.
State health department spokeswoman Maggie Thompson said the agency held a conference call Monday to answer local departments' questions and to provide them with information about the swine flu's symptoms and guidance from the Centers for Disease Control and Prevention.
"I think people have a lot of questions and they want to make sure they are responding correctly," Thompson said. "I think people are responding in the right way and not panicking."
Thompson said state health officials are expecting Kansas to begin receiving doses of anti-viral medicines this week from the national stockpile.
The department is using a computer-based system to send information to health care professionals across the state, as well as to collect information should new cases be suspected.
Thompson said it is important to look for the specific symptoms or factors that would suggest the person may have the swine flu, rather than the common cold or other virus. Such factors include whether the person was recently in Mexico, was in contact with someone from Mexico or was in close contact with someone who has a confirmed case of swine flu, Thompson said.
Copyright 2018 The Associated Press. All rights reserved. This material may not be published, broadcast, rewritten or redistributed. We strive to uphold our values for every story published.