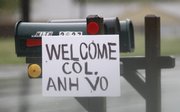 It's an unlikely friendship that has stood the test of time, and now two soldiers from two different countries are reunited after 50 years apart.
"I'm so happy that you're alive and that you found me," Lawrence resident and former Army officer Gene Kean said to his long-lost friend Anh Vo, a former colonel in the South Vietnamese army.
Vo, 71, traveled to Lawrence, arriving Saturday, to meet with Kean after spending decades searching for him.
"We are very happy," Vo said. "I didn't think I could find him, but I tried. I tried many times."
The two met in 1958 at the U.S. Army Engineer School in Fort Belvoir, Va. Vo arrived in the United States for training after graduating from the Military Academy of Vietnam, similar to West Point.
At the time, the United States was providing training to the South Vietnamese in hopes of stopping the spread of communism.
Kean, now 73, was then on the general's staff at the U.S. Army Engineer School. He served as an "unofficial adviser" to a group of 35 Vietnamese engineer officers, including Vo.
"I had a beautiful 1958 Chevrolet convertible, and I remember some of the officers from Vietnam would ask if I could drive them to Washington, D.C., because they missed Chinese food," Kean said.
The friendship grew from there. Vo said he and his fellow officers would practice their English with Kean. Kean taught them how to play football and played the piano for them. Kean even invited Vo and another officer to his home in Olathe to spend Christmas in Kansas.
"It became such a good friendship that we swore that we would be blood brothers throughout the war," Kean said.
But when Vo graduated from the officers' school in 1959, the two went their separate ways. Kean became a helicopter pilot and went on to train troops in the Big Red One, the Army's 1st Infantry Division. Vo ended up fighting on the front lines in the war in Vietnam.
"When the mail stopped coming and South Vietnam was overrun by the communists, I was very sad and presumed he was dead," Kean said.
In fact, Vo served in the Vietnamese army for 17 years, rising to the rank of colonel. He fought until the final minutes, then fled to the countryside before spending three years in a Viet Cong prison camp.
Vo eventually escaped the country on foot, spending more than a month walking to cross the border between Cambodia and Thailand.
He then spent a year in a refugee camp and made his way to the United States in 1981.
"I came to the United States without a penny in my pocket, just my shorts and shirt," Vo said.
Vo, who now splits his time between Wausau, Wis., and Garden Grove, Calif., said he often thought of Kean and tried repeatedly to look him up in Kansas phone books. His son finally helped Vo track down Kean using the Internet, and about a month ago the two finally connected.
"It was just complete surprise and joy," Kean said.
The two have spent the past three days sharing old war stories, touring downtown Lawrence and the Kansas University campus, as well as making a stop at the Dole Institute of Politics. Most of the time has been spent talking — after all, they have 50 years of news to catch up on.
"We've been laughing and having a great time," Kean said.
And the two promise the next reunion will be much sooner.
"We'll try to keep meeting if we have the chance to," Vo said. "We don't know how long we'll be alive, so we'll take time to enjoy it. We're very close, very good friends. He's a brother."
Copyright 2018 The Lawrence Journal-World. All rights reserved. This material may not be published, broadcast, rewritten or redistributed. We strive to uphold our values for every story published.