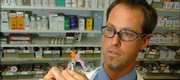 An outbreak of H1N1 Swine Flu was reported in Mexico in April 2009. By the end of May, it had spread across the U.S., with all 50 states reporting cases.
Xonacatlan, Mexico — The 39-year-old bricklayer fell ill two weeks ago and became one of the first Mexicans to die of swine flu. But no health worker has come to his home outside Mexico City to offer medicine or ask about the neighbors' pigs.
In fact, Gerardo Leyva Lolis' widow says nobody even told her he died of swine flu until The Associated Press informed her the case had been confirmed by the director of the hospital where he was rushed last week.
The family's experience raises troubling questions about Mexico's response to the epidemic and one of its greatest mysteries: why the disease is killing people in Mexico, but so far nowhere else.
"I don't know what to think," Antonia Cortes Borbolla said Sunday, holding back tears in the two-room wood and cinderblock home she shared with her husband and their three teenage sons in this rural town of 18,000 located 40 miles outside Mexico City.
Their neighbors — three of whom keep pigs in their yards — had harsher things to say about the failure of Mexican health officials to provide medicine to protect those closest to the swine flu victim.
"If it was (swine flu), why haven't they taken measures to protect the family?" asked Sandra Estrada, adding that she's worried because she visited Leyva while he was sick and her children have been cared for by the dead man's wife.
Finding the origins
Epidemiologists need details about victims to locate the source of a viral outbreak and to understand how it spreads. There are antiviral drugs, including Tamiflu, that have been shown to be effective, but they need to be taken within days of the first symptoms. Experts also suggest they be given to those in close contact with flu victims, even if they don't show symptoms, to make sure they don't unwittingly spread the virus.
President Felipe Calderon announced an emergency decree Saturday authorizing health workers to isolate patients and enter and search their homes to combat this flu.
But no such effort has been made with Leyva's family. His widow said she has been asked little and told even less since his death on April 20.
The president's office referred all inquiries about the case to the federal health department, where a spokeswoman said she had no information. Victor Torres, assistant epidemiology director at the state health institute, told the AP he needed another day before he could talk about the case.
But details provided by his family suggest Leyva could have been infecting people all over the crowded capital and the surrounding state of Mexico.
Leyva's widow said he first noticed flu symptoms on April 13, and went to the local clinic in Xonacatlan. No one was available to give him a checkup, but he was given a shot and felt well enough the next day to make the 40-mile bus trip to Mexico City, taking subways to work despite a nasty cough.
Too sick to work again after that, he still had no medical care except for a penicillin injection his niece gave him. By the night of April 19, he was having trouble breathing and had an irregular heartbeat, and so his family took him to the nearby city of Toluca, where the poor can get discounted care at a large public hospital.
By 8 a.m. the next day, he was dead. His family was told the cause was a heart attack brought on by pneumonia.
New virus
Four days later, the Centers for Disease Control and Prevention in Atlanta announced that the flu killing people in Mexico matched a disturbing new virus detected in the U.S. that combines genetic material from humans, birds and pigs in a way scientists have never seen before — and that can be passed from human to human.
As news spread about the dangerous new strain, two nurses from the local clinic visited the family's home last Thursday to say Leyva may not have died from pneumonia after all, and that an epidemiologist at the hospital wanted to see his widow.
She went in on Friday, but said the doctor did not tell her that her husband's death had been confirmed as swine flu. She said he gave her a hug of condolence and urged her to buy an anti-flu drug and vitamin C if anyone in her family felt sick.
As of Sunday, she hadn't heard from any other health worker. The local pharmacy had no such drugs to sell, and she didn't have money to buy them anyway. Since her family seemed healthy, she left it at that.
Dr. Carlos Aranza, director of the Adolfo Lopez Mateos hospital where Leyva died, said state laboratory tests confirmed that swine flu killed him, as well as another patient there, a 42-year-old woman identified only as Gregoria.
Aranza also said that while the hospital had no anti-flu medication to give the widow at the time, it now has Tamiflu in stock for those who need it.
Copyright 2018 The Associated Press. All rights reserved. This material may not be published, broadcast, rewritten or redistributed. We strive to uphold our values for every story published.