Go Click It!
Celebrity or runway looks are recreated, down to the shoes, with separates that each cost $100 or less.
Recent entries include trendy new updos and hair coloring tips for men.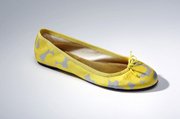 The winter changeover into spring is always a tricky dressing situation. I have previously highlighted new spring clothing shapes, fun accessories and girly special-occasion dresses.
Still, preparing a winter-to-spring wardrobe can be helpful when you're busy or on-the-go. Check out my favorite transition items that fill my closet, coat-racks, bins, boxes, bags and bedroom floor.
Bright trench coat:
Trenches are fabulous for the warm daytime, chilly nighttime and quickly changing temperatures that are common in Lawrence. By throwing on a brilliantly bold jacket, you will feel fabulous no matter how gloomy and gray the sky.
Versatile jean jacket:
Jean jackets have been a classic for decades. Jackets in black, dark blue, acid wash and light denim all deserve a spot in your closet. A fancy dress is friendlier in an instant, and a boxy shape perfectly balances either fitted or flowing bottoms. Plus, individual details such as embroidery, jewels, pins or studs will reflect your fashion sense or mindset.
Retro shades:
A pair of nice shades or refurbished aviators are great to have around year-round. If you have sensitive eyes, even cloudy weather appears too bright-white! Look for a pair that is unique, not just another mass-produced spinoff. Some companies are known for reproducing retro sunglasses with newly installed lenses, and others allow you to choose the pattern, color and shape of your sunglasses.
Paisley scarves:
A paisley scarf — or any scarf, be it bright or patterned — will add instant pop to your outfit. A scarf draws attention to the glow around your face and looks worldly. Scarves always remind me of a convertible on a perfectly breezy day.
Bold, skinny belts:
Skinny belts add shape to everyday sweaters and flowing tops. Whether a dress is fitted or not, a belt works to distinguish your top and bottom halves, gives the eye a break from a monochrome-colored dress, and adds fun color and details on its own. Plus, a skinny belt is often more flattering than the chunky, thicker belts that seem ubiquitous nowadays; a skinny belt won't smash your belly in, but it highlights the shape of your real waist without looking or feeling uncomfortable.
Graphic dress:
A graphic dress is a spring wardrobe staple. If you do not have a comfortable, flattering dress, pick one up now! Dresses feel feminine and flowy, which are essential for spring. If it is chilly, throw on a boyfriend blazer or jean jacket for some warmth and contrast in shape.
Unique umbrella:
Don't let a rainy day ruin your mood. If you have a fun, funky umbrella, you'll be uplifted instantly. Think about purchasing one with a flower-print pattern, rainbow stripes, unique shape or adorned wooden handle. Or, grab a trendy, clear see-through umbrella and watch the raindrops be blocked right above you! Taking an extra moment to pop up an umbrella always makes me feel energetic and youthful. There is something about walking around like a Londoner that brings a smile.
Bold and beautiful: Yellow
Sunflower, goldenrod, dandelion, canary. Accessories, outerwear and even cocktail dresses are beaming shades of yellow, which was all over the runways and has taken hold as the color of the season.
That's a little daunting for those who adore the cheery color but are sure they can't wear it. And that would be most of us, says Los Angeles-based color stylist Jill Kirsh, who confides that practically no one thinks yellow looks good on them. But, in fact, she says, "Everyone can wear every color — it's all about the specific shade of that color. You have to wear the right shade for your skin and hair."
If you're nervous, try it in small doses — shoes, or a scarf — or in a vibrant print.
Choosing yellow that's set into a print among deeper colors can make it feel a lot less intense. Madewell has a fitted cardigan with inky blue flowers that offset the brighter yellow ones in the mix, and you can temper the busyness of the print by playing up the darker tones. Pair the sweater with gray or dark jeans, for instance, and try a necklace that has earth-tone stones.
— Los Angeles Times
Copyright 2018 The Lawrence Journal-World. All rights reserved. This material may not be published, broadcast, rewritten or redistributed. We strive to uphold our values for every story published.