On the street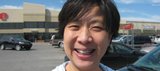 We don't have a prom. We were not suppose to talk to each other or look at each other.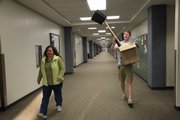 In the movies, prom is a life-changing event where dreams come true, the dresses are fit for a princess, and romance is alive.
In real life, it's never quite that way. Dreams stay in dreamland, the dresses are a bit more uncomfortable than they look on screen, and the great guy doesn't always get the girl.
But the folks at Free State High School and Lawrence High School are hard at work trying to make sure prom 2009 is everything those attending hope it will be.
This Saturday, Free State seniors and their dates will head to the ballroom at the Kansas Memorial Union for a masquerade-themed dance that the members of the school's student council have been planning for weeks. Chase Hoag, the senior class co-president, was surprised by what it takes to put on a prom.
"Last year, the majority of my friends and I actually got the opportunity to go to prom, and we saw the product and you just don't realize that, I didn't realize at least, that our student body, our seniors, actually did everything," Hoag says. "And now, we're getting a taste — it's something we have to do."
Working it out
That taste includes meeting after meeting to discuss the theme, designs, lighting and other visual aspects of what guests will experience when they enter the ballroom. In on the discussion is Debbie Payne.
Payne, owner of White Dragon Productions and Balloons 'N' More, is the design consultant for both proms.
She meets with the student leaders months or weeks out, refining themes, ordering parts and creating one-of-a-kind experiences. It means a lot of man hours this time a year. For example, she and her team recently spent five hours a day for five straight days working on building pieces for the Perry-Lecompton prom.
"That's 25 hours nonstop, cutting foam board, getting lights on and building arches," Payne says of the Perry-Lecompton workload. "We have to build pieces and parts, of course, and then we put those pieces and parts together the day of the event and hope they stand."
Payne puts in the hard work initially, but many times the high school kids also get in the act. At both high schools, juniors on student council help set up prom.
"She is our expertise and they (the students) are the people power, which is what makes it affordable," says Jane Rock, student council adviser at Free State. "Because if you had to contract all that out, you're talking thousands of dollars."
The money dance
The decorations may be the most time-consuming, but the trickiest part is the money. Neither school would discuss the financial specifics of prom, but funds made from ticket sales — the main vehicle used to pay for the dance — add up to be thousands of dollars alone.
Jan Gentry, assistant principal at Lawrence High, says that the school raised its ticket price from $15 to $20 this year, the first time the price has been raised in eight or nine years. The school uses ticket sales as sole payment for prom because, Gentry says, the glut of extracurricular fundraisers has made it an inefficient way to make money for the May 9 dance.
"We have chosen to fund prom through our ticket sales," Gentry says, adding that between 350 and 375 students went to the dance last year. "This year, each ticket will be $20. And $15 goes toward prom, decorations, music and so forth and then $5 from each ticket will go to the after-prom party that's organized by Lawrence High parents."
Rock says Free State has a similar setup.
"Our dances provides the income to support prom and then the senior class has a couple other fundraising events that they do, but they are very small," Rock says. "We charge $15 a person to go to prom and based on that, we try to give them an evening they will never forget."
Of course, it's not just the schools that are counting every penny. With the economy in a recession, many students are trying to save money where they can. At Free State, some students are making dresses in textile classes. And earlier this month, girls tried on over 250 free dresses at the Prom Dress Drive at the Lawrence Community Building.
Even the guys are saving money, says Andy Urban, Lawrence High senior class president, who is foregoing the tux this year, but still going in with friends for a limo. Meanwhile, Taylor Stuart, Hoag's co-president at Free State, says he got a tux but isn't going out to dinner with his group of 18 kids.
"We're definitely watching money a lot (more) carefully this year with the way we spend for prom because right now we're not in the best state of economy," Stuart says. "We're trying to be careful with it, but it's just one of those things, again, where it's your senior prom, just have fun ... just live it to the fullest."
Copyright 2018 The Lawrence Journal-World. All rights reserved. This material may not be published, broadcast, rewritten or redistributed. We strive to uphold our values for every story published.