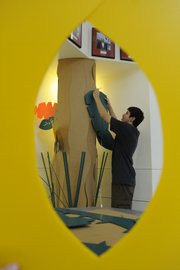 Eyad Elhamoudeh admits he hadn't spent much time looking at the columns surrounding the commons area at Lawrence High School — until two weeks ago.
"Everyone just walks by," he said. "This adds texture to the hallway. Maybe people will start to notice."
He was talking about a project by his Ceramics/Sculpture I class that turned six of those eight columns into works of art the past two weeks.
They were working with Kansas City, Mo.-based artist Juniper Tangpuz, known for his public art installations in the Kansas City area. Tangpuz's involvement was funded through a grant from the Lawrence Schools Foundation.
The students decided to turn the pillars into animal- and plant-inspired artwork. Themes included a totem pole, jellyfish, tree, butterfly, vine and — appropriate to the school mascot — a lion.
They used a type of colorful corrugated plastic that is malleable.
"It's very different from what they usually do in the classroom," said Dena Amont, the class' teacher. "The scale is so much larger."
Plus, it's out for everyone to see. The works are scheduled to stay up through the end of the school year.
"I think it's really exhilarating to work large," Tangpuz said. "This is similar to some of the public art I've been doing lately. It gives these kids an idea for what that's like."
On a recent Thursday, LHS sophomores Morgan Manger and Joe Matthews were wrestling with the plastic material to make a jellyfish. They had created a mockup in cardboard before starting the real thing.
Matthews said the public nature of the projected added a little pressure.
"I think it makes us pay more attention to the details," he said. "It's pretty scary."
Nearby, sophomore Sam Beeson was trying to make grass stand up at the base of a "bark"-covered column/tree. She was trying to figure out the corrugated plastic.
"It's fun once you get it to work," she said. "But until then, it's evil."
She was taking the public nature of the art in stride.
"I figure if they don't like it," she said, "they won't look at it."
Copyright 2018 The Lawrence Journal-World. All rights reserved. This material may not be published, broadcast, rewritten or redistributed. We strive to uphold our values for every story published.