-->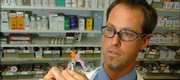 An outbreak of H1N1 Swine Flu was reported in Mexico in April 2009. By the end of May, it had spread across the U.S., with all 50 states reporting cases.
Local health officials are encouraging people to be alert after concerns about a deadly swine flu outbreak prompted the United States to declare a national health emergency.
"We don't want people to be worrying unnecessarily, but … if they have traveled to areas where there have been known cases, to be especially vigilant about their own personal symptoms and get evaluated right away," said Barbara Schnitker, Lawrence-Douglas County Health Department director of clinic services.
Government health officials have confirmed 40 cases of swine flu across the country, including two in Kansas and others in California, New York City, Ohio and Texas.
A married Dickinson County couple were diagnosed with mild cases of swine flu, after the man had traveled to Mexico, the outbreak's epicenter, on April 16. Dickinson County is about 115 miles west of Lawrence.
In Mexico, swine flu is close to becoming a pandemic. Officials there say the flu strain may have sickened 1,614 people since April 13, and may be responsible for as many as 149 deaths.
While the cases in the U.S. have been mild so far — only one requiring the patient to be hospitalized — Schnitker said there's a lot of uncertainty about the "novel" flu strain and whether it will spread quickly.
"This swine flu situation is a new strain that we haven't seen before, and so there isn't a vaccine and we just don't really know quite what direction it's going to take," Schnitker said. "Hopefully it will run its course and we won't see a whole lot of cases, but we just really don't know yet."
Local health officials are preparing a response plan, in case the virus spreads to a large number of people quickly. On Monday, the local health department notified doctors, other health care providers, schools and child care facilities in the county about the disease and its potential.
They're also reviewing their pandemic training materials, which they recently practiced, in the event drugs needed to be delivered to a high number of people quickly.
Lawrence Memorial Hospital officials will meet Tuesday morning to revisit their pandemic plan, said Tricia Thomann, infection control practitioner. They'll discuss the types of personal protection equipment hospital employees would use and how patients would be quarantined.
While Thomann said the hospital doesn't anticipate a pandemic, she said things can change and they must be prepared for the worst.
"We do take it very seriously," Thomann said.
Health officials are asking people with symptoms of swine flu to contact their health department and stay home.
The Lawrence school district is encouraging nurses and staff to watch for symptoms among students. Students and teachers are also being asked to stay home if they get sick, said Sonja Gaumer, nursing facilitator.
In other parts of the country, public schools have been shut down where students have been diagnosed with the disease.
Kansas University officials said they have a flu response plan in place, if needed, and they sent an e-mail to students, encouraging them to take precautions to avoid spreading disease, like frequent hand washing.
Kansas Department of Health and Environment leaders said students who traveled to Mexico during spring break in mid-March would most likely be safe from the disease, which was first reported in late March.
University officials said they're also monitoring developments related to the swine flu outbreak and will update those students scheduled to study abroad in Mexico as the situation develops.
A shipment of swine flu treatments should be arriving in the state in the next few days, Kansas emergency management officials said. Federal officials have authorized the release of flu-fighting drugs from the nation's strategic stockpile because of the confirmed swine flu cases.
Copyright 2018 The Lawrence Journal-World. All rights reserved. This material may not be published, broadcast, rewritten or redistributed. We strive to uphold our values for every story published.