Photo Gallery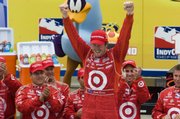 Road Runner Turbo Indy 300 at the Kansas Speedway
Kansas City, Kan. — It's not like Scott Dixon thought he'd never win a race again. Defending IndyCar Series champions don't think that way.
But after two sub-par showings to begin this season, Dixon and his Target Chip Ganassi Racing crew members already were beginning to feel the squeeze as they tried to recapture last season's success.
"You know, you could tell, some people were maybe not as nice to each other as they should be," Dixon said.
The poor outings — a 16th-place finish three weeks ago in St. Petersburg and a 15th-place result in Long Beach last week — had taken a toll on Dixon as well. Dixon's wife, Emma, said he hadn't been in the best of moods since this season started.
Dixon's retort?
"Well, of course I was grumpy," he said. "I wasn't winning."
Sunday, Dixon bid Mr. Grumpy adieu.
Dixon led five times, including the final 45 laps, to win the Road Runner Turbo Indy 300 on an overcast and windy day at Kansas Speedway.
In doing so, Dixon leapt from 17th place to fourth in the IndyCar Series points standings.
"We needed something, even a sniff of something," Dixon said, "because so far all we'd gotten was a sniff of the tail end of the field, and that's frustrating."
The victory marked the fifth year in a row that Dixon has won at least one race in the IndyCar Series but the first for Dixon in seven tries at the Kansas Speedway.
Tony Kanaan, who placed third Sunday, moved into the IndyCar Series points lead with 100 points, one ahead of Ryan Briscoe, who finished fourth.
Copyright 2018 The Lawrence Journal-World. All rights reserved. This material may not be published, broadcast, rewritten or redistributed. We strive to uphold our values for every story published.