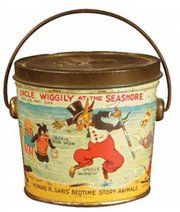 Peanut butter, everyone's favorite food, has had bad press lately, but peanut butter collectibles rank high with collectors.
Peanut butter was eaten by the ancient Incas centuries ago. Peanuts later were grown in Africa, then Spain and then the American colonies. It was a commercial crop by the 1800s. Crushed peanuts (peanut butter) were eaten by the Chinese in sauces, during the Civil War in porridges, and as a healthy source of protein by the 1890s. Machines to make peanut butter in the United States were patented by 1895.
Early peanut butter, and some sold in grocery and health stores today, is simply a paste of ground roasted peanuts. In 1904 peanut butter was a new popular snack sold at the St. Louis World's Fair. Improvements continued. It became smooth with the invention of churning machines, then was made to stay fresh longer and not separate from its own oil. Crunchy peanut butter was developed in 1934.
Peanut butter collectors want the original containers — anything from jars to decorated tin pails to pressed glass goblets. They also look for cookbooks, banks, salt and pepper shakers, figurines and anything connected to peanuts, like cookie boxes, roasted peanut tins and even the peanut logo used by President Carter. Most popular are peanut-related things from companies like Peter Pan, Big Top, Skippy, Smucker's, Planters Peanuts and Jif. Best of all are the decorated tin pails used from 1910 to 1950. Most entice buyers with colorful pictures of young movie stars or scenes from children's books.
Q: When my mother died at age 86 a few years ago, she left me her old "spinning wheel rocking chair." At least that's my name for it. The back of the chair and its arms are made from the wheels of spinning wheels. There are no marks on the chair, so I donknow if it was made commercially or by a local craftsman. Have you ever seen this type of chair?
A: When the United States celebrated its centennial in 1876, people all over the country became interested in Colonial Revival furniture. Because spinning wheels were no longer used much but did remind people of Colonial times, some clever furniture makers decided to use old wheels to make chairs. When old spinning wheels weren't available, cabinetmakers simply made more wheels. The style revived again in the 1940s.
Q: We own a 1929 GE Modern Longfellow grandfather clock-radio. Can you help me find information about it?
A: General Electric, founded in 1892, got into the radio business in 1919. That's when GE founded RCA. RCA marketed GE radios until 1930, when the companies were forced to break up. Your mahogany clock-radio dates from about 1931, not 1929. It was GE's H-91 model in the shape of a full-size grandfather clock. It houses an electric clock and a 10-tube radio. The radio didn't work very well, but collectors will pay about $500 for a working model.
Q: More than 30 years ago, an older friend of mine gave me two canvas-covered duck decoys that had belonged to his father. I'm guessing they're around 100 years old. They appear to be hand-painted, but have inset glass eyes. Each one has its original cord and metal anchor attached. They are not stamped or signed. Can you tell me about canvas decoys and what they're selling for?
A: Canvas-covered ducks, geese and swans have been made and used in many parts of the United States since the mid 1800s. Some were made commercially, some by small workshops and some by amateurs working at home. Most are made with a wooden base and a wooden or wire frame covered with canvas. Many are unmarked. They were inexpensive and lightweight, so they were easy for hunters to carry and deploy on the water to attract birds. Most decoy collectors don't like them as well as wooden decoys, but an antique canvas decoy in good condition can sell for more than $100.
Q: About seven years ago I rescued a copper weather vane from a pile of junk being thrown away. It's in the shape of a trotting horse and sulky. The reins are still intact, and so are the wheels. Do you think it could be valuable?
A: Horse weather vanes became popular during the late 19th century and have stayed popular. You can still buy new ones. Most of them are simply horses, though, without jockey or cart. Some horse-and-cart weather vanes were made commercially in the late 1800s, but others were homemade by amateurs. The value of yours depends on its quality, age and condition. If it's well made, in good shape and dates from the 19th century, it could sell for hundreds or even thousands of dollars.
Tip: If heavy furniture legs have left dents in your carpet, put an ice cube on the spot and wait for the carpet to spring back.
CURRENT PRICES
Current prices are recorded from antiques shows, flea markets, sales and auctions throughout the United States.
• Automobile hood ornament, 1951-55 Nash, art-deco woman, chrome, 11 inches, $110.
• Official Alan Ladd wallet, leather, image of Ladd in starry background, fan-club identification card plus photo, Brownlee, 1940s, 3 1/2 x 4 1/2 inches, $125.
• Brooklyn Ball Club pocket mirror, pictures VP Edward J. McKeever and 2nd VP Stephen W. McKeever, celluloid, black and white, 1912, 2 3/4 inches, $460.
• Fenton glass water set, Coin Dot pattern, cranberry opalescent, ice-lip jug, 6 barrel-shaped tumblers, 1940s, $515.
• Patchwork quilt, Mariner's Compass pattern, red, green, blue, brown, pink and white, signed, 1844, 99 x 100 inches, $660.
• Coca-Cola Westinghouse Junior soda cooler, embossed letters, hinged lid, bottle-cap catcher, holds 51 bottles,
mid-1940s, 25 x 34 x 18 inches, $805.
• Mochaware mug, pearlware with molded base, ocher band with blue, white and brown earthworm and cat's-eye design, c.1830, 4 7/8 inches, $945.
• Steiff chocolate bear, shoebutton eyes, hump on back, black stitched nose, cocked head, 9 inches, $1,565.
• Cast-iron swan doorstop, white paint with feathers accented, Spencer, 13 1/2 x 8 inches, $2,350.
• Charles & Ray Eames chair for Herman Miller, molded birch plywood seat, back and frame with original Postman's Bag, tan leather seat, 1950s, 22 x 23 inches, $3,500.
— Terry Kovel answers as many questions as possible through the column. By sending a letter with a question, you give full permission for use in the column or any other Kovel forum. Names, addresses or e-mail addresses will not be published. We cannot guarantee the return of any photograph, but if a stamped envelope is included, we will try. The volume of mail makes personal answers or appraisals impossible. Write to Kovels, Lawrence Journal-World, King Features Syndicate, 300 W. 57th St., New York, NY 10019.
Copyright 2018 The Lawrence Journal-World. All rights reserved. This material may not be published, broadcast, rewritten or redistributed. We strive to uphold our values for every story published.