Photo Gallery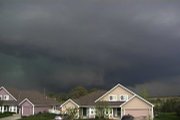 Severe weather submissions: April 25-26, 2009
Photo Gallery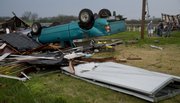 Severe weather: Saturday, April 25, 2009
-->
Send us your photos
Do you have storm damage in your yard? How about great photos of severe weather moving through the area. Send them to us so we can feature them on our Web site and on 6News.
6:08 a.m.
The warning has expired, but a flood watch is in effect until noon for portions of east central Kansas and northeast Kansas, including Douglas County. The rains are expected to continue through the morning hours. U.S. Highway 24, which was reduced to one lane through much of Jefferson County overnight due to water over the road, is back open for a normal, if wet, morning commute.
12:12 a.m.
The National Weather Service has canceled the Flash Flood warning and replaced it with a county-wide Flood Warning. Law enforcement reports creeks running at or out of their banks. Use extreme caution when approaching standing water, as it can be hard to determine depth and speed of the water at night.
10:54 p.m.
The National Weather Service just canceled the tornado watch that was in be in effect until midnight.
Sounds like mostly rain for the rest of the night.
10:47 p.m.
We just heard a report that 15th Street between Kansas University and Kasold has flooding in the outside lanes, but the inside lanes are still drivable.
10:40 p.m.
We just heard a police officer relay in that water is so deep on Haskell between 11th and 13th streets that his engine flooded. Stay out of that area, and stay at home if at all possible.
10:35 p.m.
Reports of flooding are coming in all the time now. Police and sheriff's deputies are investigating possible flooding near:
E1500 Road and N2100 Road, Highway 40 at Kanwaka Corner and the 400 block of California Street.
If you can stay inside, you should do so until the rain has stopped.
Also, the flash flood warning has now been expanded to include most counties in northeast Kansas, including Douglas, Jefferson, Leavenworth, Wyandotte, Franklin and Shawnee counties.
10:30 p.m.
We just received word of high water at 19th and Maine streets. The intersection is still open.
10:25 p.m.
We just received word from Leavenworth County. More flooding, this time in the City of Tonganoxie. 2nd Street is flooding. Use caution.
Also, U.S. Highway 24 is now open with one lane. KDOT and Jefferson County deputies are on the scene preventing drivers from colliding head-on.
10:16 p.m.
We just received word from Jefferson County dispatchers that U.S. Highway 24 is closed in Jefferson County from two miles west of the Douglas County line to the junction where U.S. Highway 59 heads north to Oskaloosa.
10:07 p.m.
One of our photographers on his way to 23rd and Ousdahl reports several inches of water across the entire intersection of 10th and Massaschusetts streets in downtown Lawrence.
We're also getting reports pf basements flooding in the area of 27th and Ousdahl.
9:52 p.m.
The Flash Flood Warning now includes all of Jefferson County as well.
9:47 p.m.
They've closed the intersection at 23rd and Ousdahl because of high water through the intersection.
You're going to need an alternate route. We're expecting more reports of flooding, check back to LJWorld.com.
9:38 p.m.
The National Weather Service has expanded the Flash Flood Warning to include all of Douglas County and stretched it south into Franklin County as well.
The weather service also issued an advisory to dispatchers that there is heavy flooding on the streets of Topeka requiring water rescues. They advise the same conditions may move here.
9:25 p.m.
We just checked outside our door because it sounded like hail. No visual confirmation of hail, but it sure looks like a torrent of rain.
9:19 p.m.
We're getting pretty heavy rain downtown, but we have no indication of the hail or extremely damaging winds that would prompt a severe thunderstorm warning. Flash Flood Warning in effect until 1 a.m., tornado watch in effect until midnight.
9 p.m.
The National Weather Service in Topeka has issued a Flash Flood Warning for northern Douglas County including most of the city of Lawrence. Doppler radar indicated a storm capable of producing 1"-2" of rain per hour was moving through the area and would dump more rain on already saturated ground.
Be alert to suddenly rising water and do not drive through any standing water.
The tornado watch is still in effect until midnight.
8:47 p.m.
First reports of thunder and lightning from downtown Lawrence. 6News Chief Meteorologist Matt Elwell said he expects the storms to be over Lawrence between 9 and 9:30 p.m.
There is still a chance for tornadoes, he said, but the greater likelihood is for strong winds, hail and flooding.
Stay logged onto LJWorld.com or check out Sunflower Broadband's 6News for all the latest severe weather information.
5:05 p.m.
Douglas County is under a tornado watch until midnight. A flood watch remains in effect until Monday morning.
2:44 p.m.
The National Weather Service in Topeka has issued a flood watch for Douglas County until Monday morning. Widespread thunderstorms are expected in the area, with the possibility of two to four inches of rain. The counties of Osage and Shawnee are under a tornado watch until 7 p.m.
Copyright 2017 The Lawrence Journal-World. All rights reserved. This material may not be published, broadcast, rewritten or redistributed. We strive to uphold our values for every story published.