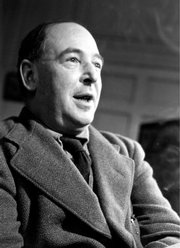 C.S. Lewis is one of the most popular Christian, science fiction and children's authors of all time. His "Chronicles of Narnia" books have been a hit with kids and their parents since they hit shelves in the late 1940s and early 1950s.
All aspects of Lewis — his life, Christianity, works and more — will be explored as part of a seminar put on by Christ Covenant Reformed Presbyterian Church on Friday and May 2.
The seminar's featured speaker is Max Parish, a Californian and Lewis enthusiast set to begin study for a doctorate of philosophy at the University of Oklahoma. Parish believes Lewis' works endure because he was more than your everyday writer.
"In my opinion, he is one of the greats," Parish says. "He was more than just a philosophy tutor, or an author of children's fantasy, or a science fiction novelist, or a Christian apologist, or a professor of 16th century English literature — though the combination of all these one individual is extraordinary."
Parish will begin the seminar at 7 p.m. Friday at Signs of Life Gallery, 722 Mass., with two talks on Lewis: a biographical sketch and on the subject of the author's enduring popularity.
Then, at 9 a.m. Saturday at Christ Covenant Reformed Presbyterian Church, 2312 Harvard Road, Parish will give three back-to-back talks. The talks will cover the role of myth in Lewis' thought, Lewis the Christian apologist and Lewis on the "true, good and beautiful."
"No matter what your interests, you are bound to find something that feeds your heart, soul and mind in the Lewis corpus," Parish says.
Copyright 2018 The Lawrence Journal-World. All rights reserved. This material may not be published, broadcast, rewritten or redistributed. We strive to uphold our values for every story published.