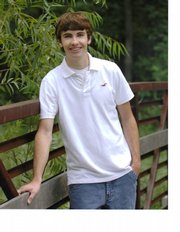 Photo Gallery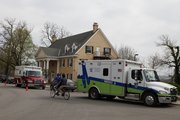 KU police investigate body
Kansas University students are mourning the death of Dalton Eli Hawkins, an 18-year-old honors student from Shawnee.
Hawkins was found dead at 8 a.m. Friday outside the south side of Watkins Scholarship Hall by a resident director of the hall, which houses about 50 female students.
Jill Jess, KU spokeswoman, said there were no signs of foul play.
The KU Public Safety Office continues to investigate the death and an earlier incident of a broken window at the hall.
About 2 a.m., KU officers responded to a call from Watkins Hall regarding a report of a window on the fire exit door at the rear of the hall being broken. Police haven't determined whether the broken window was related to Hawkins' death.
Hawkins, a freshman, lived in Ellsworth residence hall and was a member of the Alpha Kappa Lambda fraternity. He was a pre-pharmacy major and a member of the Mount Oread Scholars.
Chris Schaadt went to Shawnee Mission Northwest High School with Hawkins, and lived in Ellsworth with him. Schaadt said Hawkins often would serve as a mediator between friends.
"He was just the nicest guy," Schaadt said. "Everybody loved him."
Keenan Soto, a sophomore and vice president of the KU Alpha Kappa Lambda organization, said he'd known Hawkins only for the couple of months he had belonged to the fraternity. Soto described him as an outgoing, friendly person with a "good head on his shoulders."
Soto said the fraternity was a colony at KU and was working to gain enough membership to be considered a full chapter.
On Thursday night, Soto said Hawkins accompanied other fraternity members on a bus trip to see a Kansas City Wizards game. He said there had been some drinking on the bus as it left for the game but that the group didn't do any drinking during or after the game. The outing included members of other fraternities.
The bus returned to the Lied Center about 10:15 p.m., Soto said, and the last time he saw Hawkins was when Hawkins was walking to Ellsworth Hall.
"He was absolutely fine" when he returned, Soto said, adding that no other fraternity members saw him afterward.
Through a family friend, Hawkins' parents declined to comment on Friday.
The incident comes on the heels of the death of KU student Jason Christopher Wren, who died in his bed at the Sigma Alpha Epsilon fraternity house last month following a night of drinking.
Copyright 2018 The Lawrence Journal-World. All rights reserved. This material may not be published, broadcast, rewritten or redistributed. We strive to uphold our values for every story published.