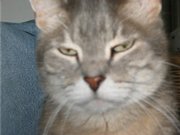 You can never predict how people will react to a column.
Last week I succumbed to mounting pressure from readers who'd suggested I write about all the funky cat sites that populate the Web.
As a sidebar to that topic, I confessed how much I didn't really care for the beasts. Sordid details then followed.
I was expecting a total backlash from cat lovers who were either angry that I didn't like cats or annoyed that I was making fun of cat owners in print.
Neither one happened. Instead, I was bombarded with MORE suggestions of all the other great feline sites available.
Hardly jumping at the prospect of delivering another cat column, that all changed when I came across a particular Twitter group.
Apparently, it's all the rage now to create a micro-blogging account for your cat. Thus, owners impersonate their pet online. Participants converse and follow each other by using cutesy broken English that is supposed to feign how a tabby would type with its paws.
Those tweeting in this collective often gather on a mystical place called ... Pussycat Island!
Evidently, two of my four direct co-workers are regular visitors to Pussycat Island. Yes, they are females. No, they are not insane.
In fact, for the purposes of this column, co-worker Sarah allowed me to step into the booties of her faux cat persona: @LunaMyTuna. (Although Luna died last year, she gleefully lives on in this wacky network.)
Sarah mentioned she introduced Luna (pictured above) into Pussycat Island last Saturday. By Wednesday, Luna had 146 followers — which Sarah was amused/disturbed to find out was more than were actually following her own Twitter account.
Now to be fair, Sarah had entered into this remote kingdom with the strict rules of only using grammatically sound language and adopting the more acerbic personality of Luna, whom she described as "kind of a jerk."
So I made my first post as Luna ("Hey losers, I don't have a bathing suit. How does this work? Oh, I hate water.") and waited for the response.
@LeonardoDaCat chimed in "Just woke up whaz the haps on #pussycatisland?"
While @perrythebirman wrote: "@rumblepurr i promisd u i wud be bak 2 mah old self todai, didnt i? tink i waz gettin 2 much nip at #pussycatisland."
Just like real cats, none of them seemed to actually be paying attention to anything a human says.
Apparently, a cat named Sockington started this whole craze after "The Office" star Rainn Wilson mentioned keeping tabs on him.
Sockington currently has 387,820 followers on Twitter.
I swear there will be no more cat musings in future columns.
However, I can't make the same promise about dogs.
Copyright 2018 The Lawrence Journal-World. All rights reserved. This material may not be published, broadcast, rewritten or redistributed. We strive to uphold our values for every story published.