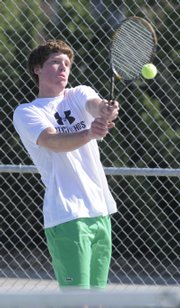 Wednesday, during Free State High's home tennis dual against Liberty (Mo.) High, confusion ruled the day.
From mixing junior varsity matches into the flow of the varsity meet to questionable calls and unusually warm playing conditions, the Firebirds outlasted the Blue Jays, 5-4, in a thrilling dual at FSHS.
Without question, the most intriguing part of Wednesday's meet was the way it was scored.
From the outset, the varsity singles players were instructed to play one set to 10 instead of the standard pro set to eight that is played throughout the state.
"That's the way they do it in Missouri," Free State coach John Richey said. "So that's the way we did it."
Although the change was difficult for some to get used to, it had little bearing on the outcome of the matches. Still, it left many Firebirds scratching their heads.
"I've never done that before," said Free State's No. 1 singles player, Michael Swank. "I've never even heard of it."
Swank won his singles match, 10-4, then teamed with No. 2 singles player Rodolfo Gauto Mariotti (a 10-1 winner at No. 2 singles) to win the opening doubles match, 8-5.
By this time, the scores were all over the place, as some junior varsity players played to eight and others played to 10. The switch back to eight-point sets was done in an attempt to move play along, but Swank and Gauto Mariotti's doubles match lasted longer than expected.
After jumping to a 5-1 lead, Free State's top team made a handful of unforced errors throughout the rest of the match that kept Liberty in it. In the end, the Firebirds managed to hang on because of their power.
After Liberty's James Lee and Michael Foster pulled within 5-3, Swank ended game No. 6 with an ace to put FSHS ahead, 6-3. Two games later, Swank closed out another game with a smash to Foster's midsection that put the Firebirds ahead, 7-5.
Although Swank and Gauto Mariotti were happy to pull out the victory, both were frustrated by their uncharacteristic mistakes.
"Both guys are exceptionally strong singles players," Richey said. "But it takes a little more than being good singles players to be a really good doubles team."
The two schools split six varsity singles matches and left the outcome of the dual in the hands of three doubles matchups.
Freshman Andrew Craig, who played his final junior high match of the season for West on Tuesday, snagged the Firebirds' only other singles victory, 10-7.
Craig, like most of his teammates, also was confused by the scoring format.
"This was my first ever match in high school," Craig said. "So I've never even played a pro set. But I've definitely never heard of going to 10."
Craig's victory, along with the doubles win by Swank and Gauto Mariotti, set the stage for the Firebirds, who needed one victory in the final two doubles matches of the day to win the dual.
Their first chance came and went quickly as the No. 2 doubles team of Blaine Kehr and Craig lost, 8-1.
Their loss evened things at four wins apiece and put the pressure of the dual squarely on the shoulders of No. 3 doubles partners Patrick Carttar and Daniel Gilroy. Luckily for the Firebirds, neither player had a clue.
"I had no idea, to be honest with you," Gilroy said. "I was just trying to win like I do every match. I'm happy I could come back from my singles loss and help the team win the dual."
In a back-and-forth battle with Liberty's Mark Olhausen and Evan Holm, Carttar and Gilroy found themselves trailing, 6-5, late in the match. A small adjustment and a quick sharpening of the mind led to three straight victories, and Carttar and Gilroy held on for an 8-6 victory.
"We just really tried to focus in at the net," Gilroy said. "And that's where we put 'em away."
The Firebirds will play host at 3:30 p.m. today to Leavenworth.
Copyright 2018 The Lawrence Journal-World. All rights reserved. This material may not be published, broadcast, rewritten or redistributed. We strive to uphold our values for every story published.