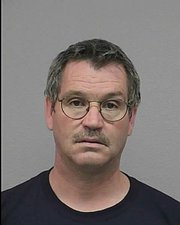 The Kansas Parole Board will take public comments today in Topeka, before determining whether to grant parole to the man responsible for a 1986 arson that killed a Lawrence firefighter.
David Winebrenner, age 21 at the time of the fire, is now in his 40s and serving a life sentence for the death of firefighter Mark Blair. He is eligible for parole in June.
The man set fire to his parents' home at 3028 Rimrock Drive while they were sleeping inside. His father said it was because he was angry about not being able to drive the family's brand-new truck.
The Winebrenners escaped from the home unharmed, but a roof beam collapsed and killed 34-year-old Blair while he was inside searching for other occupants.
Winebrenner received a life sentence after pleading no contest in October 1987 to first-degree murder, but he comes up for parole periodically. He was denied parole in 2006.
Copyright 2018 The Lawrence Journal-World. All rights reserved. This material may not be published, broadcast, rewritten or redistributed. We strive to uphold our values for every story published.