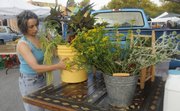 The economic recession doesn't have to be all doom and gloom. With consumer spending down, many retailers are offering great deals to entice customers back into their stores. Here are some deals to look for to make the most of the recession.
Cruises
The Cruise Lines International Association docked 14 new ships with various carriers this year, and it hopes to increase ridership 5 percent from last year.
With the struggling stock market and people pinching pennies, cruise lines are reducing rates to meet those goals.
Several cruise lines are offering 25 percent to 50 percent off on selected voyages, selling two-for-one deals and letting kids sail for free.
Although most cruise lines have Web sites, usually the best deals can be found through local travel agents.
Buy local
One great way to stimulate the local economy and save some money on produce is to buy local and in season from the Farmers' Market.
The Lawrence Farmers' Market offers more variety and quality than produce a grocery store, said Tom Buller, market coordinator. He said certain foods also can cost less when purchased locally and in season than at the grocery store.
"Plus," he said. "You're supporting people in your area, so those dollars cycle in community to other local businesses."
Last year, 80 local farmers sold their produce at the Farmers' Market, Buller said.
The Downtown Lawrence Farmers' Market opened April 11.
Sales rack
Clothing retailers are having a hard time getting items off the shelves before clothes have to be moved to the sales rack. This has made shopping the sales rack a more lucrative treasure hunt than ever.
After you've searched through the sales rack, you could try going to thrift stores such Plato's Closet, 3514 Clinton Parkway, which purchases name-brand clothing from people and sells the clothes at the store.
"We have a lot of really great product in the store right now because people need money and sell whatever they can to get it," said Anjelica Burris, the store's Lawrence manager.
Online shopping
Online buying is potentially the easiest way to save money when looking for specific items.
Prices on Web sites like eBay, Craigslist and Freecycle are frequently less than those in a retail store.
Another site to try is Overstock.com, which is like a giant sales rack online. It catalogs overstocked items from various retailers and offers them at low prices.
Patrick Byrne, Overstock chairman and CEO, said the best sales right now are on home furnishings and home improvement equipment, which he attributed to people spending their vacations at home this year, also known as staycation.
"The more cost-conscious the consumer is, the better it is for us," Byrne said. "We've done the hard shopping for the consumers."
Sets and coupons
Retailers want to sell you as much as possible, which means they'll be arranging more gift sets at lower prices and offering more coupons.
Look for gift baskets at your favorite retailers, and watch for new and better coupons in the paper and online.
Home improvement
Remodeling can be a great, cost-effective way to spice up your staycation.
Construction and manufacturing have lost 222,000 and 425,000 jobs, respectively, since last December, according to the Bureau of Labor Statistics.
In order to pick up some of the slack, most construction companies will offer lower prices and better deals on some remodeling projects.
Shop around various construction companies in town to find your best deal. The other plus to this is investing in the Lawrence economy.
Cars
It's no secret that Big Automotive isn't doing so hot. So one way to take advantage of the recession, should you have the funds, is to buy a new car.
"The incentives on new cars are better than they've ever been," said Jeff Hornback, general sales manager of Dale Willey Automotive, 2840 Iowa. "Dealers are also willing to take slimmer margin on cars just to sell them."
Again, shop around. Now is the perfect time to buy that fantasy car you've been dreaming about for a fraction of the cost.
Copyright 2018 The Lawrence Journal-World. All rights reserved. This material may not be published, broadcast, rewritten or redistributed. We strive to uphold our values for every story published.