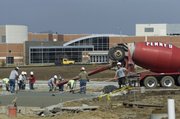 The neighbors
Signed tenants at Bauer Farm: • CVS Pharmacy • Taco Bell
Prospective tenants: • Lawrence Community Theatre • As many as 124 residential units • More retailers and other services.
Piles of rock, mounds of dirt and rows of bulldozers signal unmistakable construction progress northeast of Sixth Street and Wakarusa Drive in northwest Lawrence.
But indications of commercial additions are still to come.
The massive Bauer Farm project — a mixed-use, walkable development in the works for years on 44 acres south of Free State High School — soon will be getting its first two tenants: a CVS Pharmacy at the corner and a Taco Bell nearby.
After that, it's a matter of securing more leases, lining up construction and filling out the rest of an optimistic vision that endures despite an economic downturn that emerged long after the plans were put on paper.
"It will be very walkable and pedestrian-friendly," said Bill Fleming, a principal in Free State Holdings and Free State Group, the partnerships working on the Bauer Farm development. "The vision is for people, someday, to go to a nice restaurant and walk across and go to the (Lawrence) Community Theatre, and then walk around and enjoy water features and enjoy the whole area. That's really the vision: Have some open, public spaces that people can come to and enjoy. That's the goal.
"We're not trying to compete with downtown in any way, but we're trying to create a nice area people can come to and enjoy."
But first things first.
Current construction is focused on the basics of the development — streets, sewers and drainage areas — and builders are taking every opportunity for using such infrastructure to their advantage.
Two of the large detention ponds, designed to handle drainage on the site, are described as "wet" ponds. That means they'll be designed to have water in them all the time, and not just during periods of rain.
The ponds will have fountains, creating water features intended to prove as attractive to tenants and visitors and they are functional.
Sanitary sewers already are in place, and the project's internal streets will be concrete instead of the usual asphalt, giving each traffic-carrying path a more enduring surface.
The work is the culmination of a lengthy process to develop the last unspoken-for corner of a major intersection that's already home to an expanded Dillons store and adjacent strip center, plus the Wakarusa Crossroads strip center across the street.
Immediately to the west is a new Wal-Mart, expected to be the primary traffic-driving generator after years of legal wrangling with City Hall over the size, uses and very presence of the world's largest retailer.
Now, Bauer Farm is adding its vision into the mix.
"It's taken years to get through," Fleming said. "It's been a very complex project."
Curtain call
Among its envisioned components is a new home for the Lawrence Community Theatre, a 32-year-old organization that's been operating since 1984 in a former church at 1501 N.H.
Bauer Farm's owners have agreed to grant the organization 3.3 acres of property in the middle of their development for construction of a new theater building, provided enough money can be raised to finance the project. The organization is said to have secured some $2 million toward its $5 million goal.
Residential construction also is in progress.
At the eastern side of the project, generally between Champion Lane, which will run north and south through the center of Bauer Farm, and Folks Road, will be a collection of residences.
That portion of the project, to be built by First Management Inc., is designated multifamily townhomes.
"It will have more of a brownstone feel to it," Fleming said, describing the development as "stacked" residential units, with garages.
The initial portion of the project calls for about 124 units, although the entire preliminary development plan for residential uses covers 16 acres and contains 220 units. A bank also could go at the corner of Sixth and Folks.
Construction of the residential side of the project likely will begin in late May or early June, Fleming said. First Management is an experienced developer of multifamily housing in Lawrence and other communities, and even a tough economy doesn't look to stand in the way of adding more residences to lease.
"The market for multifamily is a little bit countercyclical to the economy," Fleming said. "When the economy's bad, people tend to rent more. They stay in apartments more. They tend not to buy new houses.
"The fact that the economy isn't roaring along in great shape isn't all bad for the multifamily market."
Commercial component
Back to the west, CVS Pharmacy looks to have a 12,000-square-foot building, with drive-through services. The Taco Bell is expected to be a bit smaller, also with drive-through offerings.
Those stand-alone buildings are expected to be flanked, eventually, with two "inline" retail buildings. One would be about 10,000 square feet, with room for four or five tenants; the other would be about 8,000 square feet.
Those buildings would be built once enough tenants had been secured through preleasing.
Copyright 2018 The Lawrence Journal-World. All rights reserved. This material may not be published, broadcast, rewritten or redistributed. We strive to uphold our values for every story published.