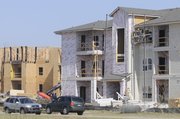 It's called the "Lawrence shuffle."
Every summer around Aug. 1, thousands of Kansas University students move out of or into rental units across the city — old houses, houses converted into apartments and apartment buildings — as their leases expire and new ones take effect.
It's a major factor in the Lawrence economy.
This fall, two more major apartment complexes are expected to be added to the mix as students and other renters make living arrangements among tougher economic times.
"The lack of new homebuyers that are around on starter homes, I think, is going to make apartment complexes more valuable," said Tim Stultz, president of Remington Square LC.
Stultz's company aims — if the weather cooperates in coming months — to complete a $9 million, 224-unit complex near Clinton Parkway and west of Crossgate Drive by August.
He said the complex aims to fill a niche because it includes all one-bedroom spaces designed for students and others seeking privacy.
The other major addition to Lawrence rental property is The Exchange at Lawrence, a 324-unit complex southeast of 31st Street and Ousdahl Road.
Dallas-based Fairfield Residential is the developer and property manager for the project that includes apartments with one, two three and four bedrooms, with space for up to 888 residents.
College students are the focus, according to the company's marketing materials.
The complexes add rental space for a community that already offers plenty, including in The Oread Neighborhood, often referred to as the "student ghetto" near KU's campus.
The neighborhood, along Ohio, Tennessee, Kentucky and Vermont streets, includes older houses converted into rentals, duplexes and apartment houses or larger apartment buildings.
James Dunn, former president of Landlords of Lawrence Inc., said the rental properties near campus will continue to have viability because of their proximity to KU.
But as newer complexes crop up farther from campus with amenities, students also receive information about the new places through extensive marketing campaigns, especially if larger companies own them.
Stultz said his group moved forward with the development of Remington Square in southwestern Lawrence because he saw a demand for a complex with amenities that offers one-bedroom units only.
"We feel that the concept of your own place, your own unit, is going to be desirable," he said.
His property management company also owns two other complexes in Lawrence, and because those are about 98 percent occupied, Stultz saw the need for more rental space with a different focus.
"It led us to determine the market conditions would be able to absorb some more units," he said.
While mostly students will likely take the new rooms at Remington Square, Stultz said the focus could also shift to a new group of people, especially during tough economic times with housing difficulties.
The new units cater to younger people, possibly who work in the service industry or are fresh out of college, who might have a hard time buying a house right now.
This housing situation could also drive up rental demand right now as well, he said.
Dunn said though with new construction, the real competition to watch will be between the older, larger apartment complexes near campus and if they can survive with the newer complexes farther away but that are newer and with more amenities.
Other factors to watch could include whether KU's enrollment continues to climb or if it levels off, he said.
Stultz said developers, especially ones putting up new apartment complexes, are trying to meet a market demand. Tenants will be able to have more choices now on their rental properties.
It may not be ideal to try to always find a newer living space near campus, he said.
"You kind of have to sacrifice a little bit to get whatever is on your top priority," he said.
Copyright 2018 The Lawrence Journal-World. All rights reserved. This material may not be published, broadcast, rewritten or redistributed. We strive to uphold our values for every story published.