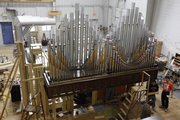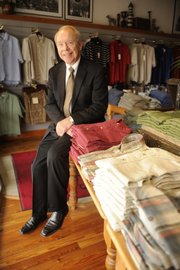 Watch expenses. Limit inventories. Meet customers' needs.
Such business mantras are taking on increased significance these days, as businesses throughout all sectors of the economy grapple with a pervasive recession.
Some businesses, of course, have been here before. And their leaders of today are recalling the lessons of yesteryear, when their predecessors navigated their enterprises through the Great Depression.
If the past indeed offers a guide for the future, here's a look at some of the strategies — both past and present — in place at three long-running Lawrence businesses: Lawrence Paper Co., Reuter Organ Co. and Weaver's Department Store.
Lawrence Paper Co.
Lawrence Paper Co. isn't changing its product mixes, overhauling its processes or giving in to the pains of a global economic slowdown.
Instead, the 127-year-old company continues its focus on efficiently producing its signature, corrugated Jayhawk boxes — some 250,000 a day — at its 900,000-square-foot production center at the northern edge of Lawrence.
"The only way we're going to make it through this is to tighten our belts," said Justin Hill Jr., the company's president. "Business is down quite a bit, and we're just doing what we can do well. Frankly, we're pretty confident in our ability to survive and compete in the marketplace."
The current downturn has not come without pain.
In February, the company announced that it was laying off 15 employees and closing its thermoform Perry Manufacturing plastics division plant, in Perry. The plant's equipment would be moved to Lawrence.
Lawrence Paper still has about 260 employees in all, with about 200 of them here in Lawrence. Hill figures that orders are down about 20 percent from a year ago, as companies that use Lawrence Paper's boxes are curtailing their own production and shipping needs.
Lawrence Paper is approaching the current downturn much in the same way that Hill's grandfather, Irving Hill, did during the Great Depression.
"It's basically similar," Justin Hill said. "We were very well-capitalized back then, and we are very well-capitalized now. They had to do what we're doing today: Cut back on employees and pull the belt very tightly."
During the Great Depression, Lawrence Paper came up with two new products that would prove to be mainstays up until the start of World War II: freezurboard, a moisture-resistant paperboard originally designed for shipping eggs but which also useful for shipping meat products; and a new box with improved ventilation, for shipping baby chicks.
Justin Hill doesn't expect any major product innovations in the coming months, but he is awaiting arrival of a new piece of equipment: a new $2.5 million Flexo press, one capable of four-color printing. The new press will reduce the amount of down time between printing orders and speed up production, while not requiring staff additions.
Given the chance, Justin Hill might have postponed the purchase. But there's no turning back now.
"We ordered it last spring," he said. "We didn't have any clue this was coming."
Reuter Organ Co.
After laying off a handful of employees in 2003, in the aftermath of the economic slowdown that struck following the 9-11 terror attacks, the folks at Reuter Organ Co. feel fortunate to be in the condition they're in.
Reuter currently has enough work for the next 15 months — from a $100,000 addition to an existing church organ to a brand-new, hand-crafted, $1.5 million instrument for another house of worship.
Reuter actually hired three employees within the past six months, lifting its payroll back to 35.
"We've been fortunate, in that during the last portion 2008 we were awarded a number of contracts that brought our backlog way up," said JR Neutel, president and chief executive officer. "What we're seeing right now is a slowdown and a lot of uncertainty that is causing people either to think about projects very, very hard, or to postpone projects that were being considered."
Neutel isn't sure how long such collective mullings among church councils will continue, but he understands their genesis.
"A lot of churches have members who are unemployed, and they don't feel real confident making that decision about spending the money on what's considered a non-necessity, or a luxury item," Neutel said. "And the organ industry normally is about one year behind the economic cycle. If we go on what's happened historically, even if the economy turns around this summer, we probably won't see the effects in their industry in the next 12 months."
That's why Reuter isn't taking any chances.
The company has postponed its own purchases of capital equipment and is working diligently to keep from carrying any excess inventory of raw materials: the tin and lead for custom-made metal pipes, the poplar and oak for wooden pipes, the wood and bone and ivory for keys.
Neutel doesn't foresee a return to Reuter's moves during the Great Depression, when crews had been called in to work and paid according to the allotment for a job, not upon the hours that would be needed to get a task done.
"Management, they had the price of the organ, and everyone was told: This is how much is allocated, to do how much," he said. Some workers would stretch out their responsibilities for six hours, he said, but be paid only for two.
"It was a different time," Neutel said.
Now, Reuter is counting on operational efficiencies and good, old-fashioned hard work to get the company through this time around.
"We are aggressively going after sales prospects, because there are still people who are buying organs in this economy," he said. "And then it's just, basically, managing manpower and your cash. …
"It was really tough for us for the three years before the economy went south, so it's kind of like we've been broken in as to what's required. It requires a lot of stamina and, in some ways, just courage: You get up every day and just go face it. When you have a responsibility to provide for the livelihood of your employees and their families, that's something that we're, as management, very concerned with."
Weaver's Department Store
Joe Flannery isn't stressing himself out too much about the current state of the economy. Sales had been steady up until November, then dipped back before regaining their footing in January and February.
"It's by no means awful," said Flannery, president of the store that traces its roots to 1857. "We know that people are being more cautious."
But rest assured: Flannery and others know history and don't hesitate to point out that for Weaver's Department Store, it's been much, much worse.
"I know Weaver's lost money, for the first time, in the Great Depression," Flannery said. "Naturally, getting merchandise (then) was a big issue. But once you got it, not a lot of people had jobs, or the spending power to really buy the merchandise, so … up until the early '40s, business was tough.
"But they'd been in business so long that they'd built up enough liquidity to get them through the Depression, and in Lawrence — all there was was downtown at the time — there weren't a lot of general merchandise stores, so they were able to survive by just catering to the needs of the community."
It's the same story today for the iconic department store at 901 Mass., where 50 employees continue to focus on remaining at the tops of customers' shopping lists, for "everything from cosmetics to apparel to shoes," Flannery said. He's watching expenses more closely, monitoring inventories on a monthly instead of seasonal basis, and exercising caution in purchasing for the next season, "until we se the economy turn around."
But the fundamental approach remains.
"You need to take care of your customer, first of all," he said. "Secondly, you just need to keep focused on your day-to-day business. I wouldn't feel comfortable being an absentee owner in this economy. You need to really be hands on, day to day, to make sure that you're watching every expense and taking advantage of every opportunity you have to improve your business.
"We continue to stay in contact with our core customers, by offering great values to them and letting them know how much we appreciate their loyalty over the years. We'll get through this together, if we just pay attention to their needs and make sure we can accommodate them."
Oh, one more history lesson: The folks that owned Weaver's, back in 1929, made a bold, visionary move by relocating from a small storefront to the current, larger building at the corner of Ninth and Massachusetts streets.
"The move was one month before the stock market crash," Flannery said. "Everybody looks back, and they had to wonder about their timing, but they persevered. It was a big leap of faith, but they had the wherewithal to survive not only the Great Depression, but two World Wars, several fires and more recessions.
"They were resilient."
Copyright 2018 The Lawrence Journal-World. All rights reserved. This material may not be published, broadcast, rewritten or redistributed. We strive to uphold our values for every story published.