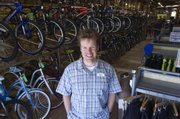 When Sunflower Outdoor & Bike owner Dan Hughes wanted to promote a Trek bicycle demo event last month, he went online to do it.
He sent e-mails to customers who've signed up for newsletters and posted the event on the store's Facebook page.
He also printed 500 or so postcards, which he left on checkout counters. But he didn't send out any direct mailings, like he would have a year or so ago.
"I think one of the strengths of Sunflower over the past 37 years is our tie to the community," Hughes said. "And as more and more people go digital with their community — whether it's Facebook or the Web — we just have to remain part of that community."
These days, using the Internet to reach customers goes far beyond having a flashy Web site. Local businesses are tapping into the social network powerhouse of Facebook, the up-to-the-minute status updates of Twitter and direct marketing capabilities of online newsletters.
Sunflower, 804 Mass., isn't the only business that has made a debut on Facebook in the past year.
You can join the group "I Love Free State Brewery," become a friend of the Sandbar Lawrence or become a fan of Garry Gribble's Running Sports.
'Extending the brand'
The social media site recently has changed its policies so a Facebook business page acts more like a person's profile page. That means they now have a wall where people can post comments and photos. And soon, business pages will have news feeds, which will send out status updates to the company's fan list.
"It's a great way of engaging customers," said Jacinta Langford, who is a co-owner of LangfordSevier. The Lawrence-based marketing firm specializes in online advertising.
When venturing into the world of social media, Langford said there has to be a careful balance between giving customers enough information that they are enticed and not oversaturating them with special offers and promos.
"You want to engage with them — keep them informed — but you don't want to overdo it," she said.
And not all Internet communication has to be focused on making a direct sale. For example, bookstores could Twitter about book recommendations.
"It's just a way of extending the brand," she said.
Staying in touch
After seeing other local businesses start Facebook accounts, DJ Hilding and Tyson Willoughby created one for downtown Lawrence newcomer Garry Gribble's, 839 Mass.
They included the Facebook link on customers' receipts and soon had a following online.
The page allows the store to post photos of local running events such as the Shamrock Shuffle, announce discounts for local running and fitness groups and write messages when brand representatives are in town.
It's a way to let customers know the store is part of and tapped into the community, the page's creators said.
For Sunflower, Facebook has allowed the store to get in touch with its far-flung and out-of-state customers. While Facebook has been a success, Hughes said he's not ready to make the jump to the more status-prone world of Twitter.
"On the Web, you better have something worthwhile to say," he said. "And sometimes running a business can be mundane. And I don't want to promote that. I want to promote fun and excitement."
Web specials
Facebook and Twitter aren't the only online advances for businesses in the past few years.
Marketplace, an online business directory that is linked to the Journal-World, allows businesses to gain Web exposure locally and beyond, General Manager Al Bonner said. Along with business location, phone number and hours, Marketplace can post videos, product lists, photos, ads and coupons.
With a struggling economy and more people looking to save money, placing coupons and specials online has become more popular, Bonner said. One hit has been the daily lunch specials, which are advertised on LJWorld.com and sent to interested consumers via e-mail. The daily lunch special ads can then link to the restaurant's page on Marketplace.
"It's been really effective for businesses who do it right," Bonner said of the service.
Online ordering
At some local restaurants, you can place a take out or catering order online.
Adam Warnecke, general manager of Ingredient, 947 Mass., said it's a concept that is slowly taking off. Two months ago, the downtown restaurant started using a program that allows customers to place and pay for an order with just a few clicks on the computer.
"There's no shouting over the phone," Warnecke said.
Amy Mumford, owner of Locust Street Marketplace, 642 Locust St., regularly updates her business' Web site and sends out frequent e-mails about what's new with the store's inventory. For a shop that deals with antiques, pre-owned furniture and interior goods, what they have to offer changes in days.
"We solely rely on our Web site," she said.
Before taking any new steps online, Langford advises that a lot of businesses need to first look at the image they are presenting on their Web sites. It's a look that might need a makeover.
Because it often is the initial glimpse at a company, a Web site that looks like it is outdated can send the wrong first impression.
"That introduction, that handshake, is now online," Langford said.
Copyright 2018 The Lawrence Journal-World. All rights reserved. This material may not be published, broadcast, rewritten or redistributed. We strive to uphold our values for every story published.