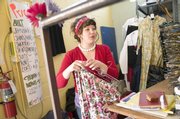 Sure, Paige Blair could be making money right now.
But she's choosing to live on food stamps, accept help for her energy bills and live off a stipend that's less than minimum wage.
"I definitely feel it was one of the smartest decisions I've made," Blair said. "A lot of people who graduated (from college) are looking for jobs or living at home."
Blair, 23, is part of the AmeriCorps, a program that places participants in service-oriented jobs throughout the country. In Blair's case, she's volunteer coordinator at Lawrence's Roger Hill Volunteer Center, where she spends half of her time placing prospective volunteers with nonprofit organizations and the other half volunteering in the community herself.
She's part of an increasing wave of people, perhaps encouraged by the slowing economy, who are pursuing alternative, service-driven careers.
With the prospects of making big bucks dwindling, they're looking to make a difference in their community — and around the world.
"If you're not interested in making lot of money, there is a good option for you," Blair said. "I think right now people are thinking this is a realistic job option."
New interest
The increase in interest for service-oriented careers is large:
• AmeriCorps saw 9,731 applications in February, up from 3,159 in February 2008.
• Teach for America, which places recent college graduates in teaching positions at struggling schools, saw a 42 percent increase last year.
• Peace Corps, which sends volunteers to other countries, saw a 16 percent increase from fiscal year 2007 to 2008, with a spike registered around the time of Obama's inauguration, according to the Associated Press.
"A lot of people who would not have normally considered the Peace Corps are thinking about it," said Elizabeth Durkin, the organizations' representative at Kansas University.
Durkin said KU has seen a 30 percent increase in Peace Corps applications. Those chosen for the program serve two years in a foreign country, doing jobs such as teaching English or helping with local agriculture. In exchange, their student loan interest is deferred for that time, they receive a living stipend (the amount varies depending on location) and a portion of certain student loans can be written off.
Still, Durkin — a native of Eudora who served two years in Mongolia — admits, "You're not going to get rich by going into the Peace Corps."
'Fantastic option'
For Katherine Carttar, that financial contrast was a stark one. Carttar, who grew up in Lawrence and now lives in Overland Park, attended Boston College and graduated in 2005 with degrees in economics and history.
She started sending applications to investment banks, but something didn't feel right.
"I thought about it: If I'd gone to work at some investment bank in New York, I'd have been working 100 hours a week and gained a lot of money. But I knew I wouldn't be happy doing that," Carttar said.
So instead, she joined the Peace Corps and helped Guatemalans market their agricultural products.
"I had a fantastic time," said Carttar, who returned in December 2007 and now works at the American Jazz Museum in Kansas City, Mo. "It's one of those totally unique experiences."
She said she thought the timing for current volunteers may be better than even her own timing. Being gone for two years allows Peace Corps members to basically tread water financially and then return with a résumé-boosting experience to help them get a new job.
"I think it would be a fantastic option right now," Carttar said. "God willing, the economy will be better at that point, and you'll have this amazing experience."
Fulfilling work
Back in the United States, service careers are taking off as well. Katie Corey, who is the program director for Kansas City's Teach for America office, said the local program is placing 120 teachers in Kansas City, Mo., next year, up from 50 this year. There are no Teach for America participants in Kansas, she said.
Teach for America workers receive a stipend, health coverage and stipend for additional schooling, among other benefits. Corey said it's unclear whether her organization's increase in applications is tied to the economy or other factors.
Blair, meanwhile, is enjoying her time at the Roger Hill Volunteer Center, where she started working in September. She's spending time at the Kansas Audio-Reader Network, where she reads materials that are broadcast to the blind and sight-impaired; at Lawrence High School, where she helps lead a hip-hop club; and at the Douglas County Jail, where she works with a creative writing group.
The latter opportunity has convinced her she wants a career working with a prison re-entry program after she's completed her time with AmeriCorps this summer. The flexibility of her job has been one of the pluses the past few months.
"A lot of people in my age range are just working for other people — bottom-rung work," Blair said. "I feel like I have more control over my job."
Copyright 2018 The Lawrence Journal-World. All rights reserved. This material may not be published, broadcast, rewritten or redistributed. We strive to uphold our values for every story published.