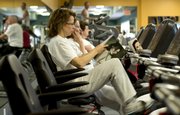 If people in Lawrence are sweating out the recession, it hasn't kept them from working up a sweat in local fitness centers.
While people look for ways to trim down their spending, they aren't starting with their gym memberships. Health clubs around town had steady or increased membership sales this year in January and February, the months when sales typically peak.
"We didn't know what to expect," said Rick Sells, owner of Lawrence Athletic Club's two locations, 3201 Mesa Way and 1202 E. 23rd St.
Maximus Fitness and Wellness, 2339 Iowa, and Lawrence Snap Fitness, 1800 E. 23rd St., both opened in October and saw numbers that met or exceeded their projections. Membership at Curves, 2104 W. 25th St., came back up this January after taking a dip last year.
"We had people that dropped out because of gas prices, and some people had lost their jobs," said Curves owner Pam Hird.
Carolyn Wiles works out at Curves regularly. In light of the economic downturn, she's found herself watching for sales and eating out less. She's made some sacrifices but wasn't ready to give up her workout regimen.
"I thought about it," Wiles said. "But this is something I needed to do for me."
Hird said that several insurance companies cover Curves memberships in their policies, and other companies sponsor their employees. Carrie Forster, general manager of Body Boutique, said that spending money on a gym was its own type of health insurance.
"You'll spend more money in the long run in doctor bills with heart disease," Forster said.
While sales are steady at Body Boutique, 2330 Yale Road, Forster is responding to the recession with a focus on retaining members. She's hired more staff to work the front desk, added new fitness classes and invested in recycling bins and green cleaning products.
Sells shared that philosophy and kept his eye on customers that are like him — baby boomers.
"The baby boomers have lived 50 years, and we want to live another 50 more," Sells said. "That's the clientele I go after, because they have the dollars to spend and also want to take care of themselves."
To that, Mike Westerhouse, a boomer who has been working out at LAC for five years, would say yes and no.
"If I had to, it would be one of the first things I'd cut," Westerhouse said of his membership. "I could walk down my driveway and get on a bicycle."
He won't be forced to make that decision anytime soon, though. His heating and air-conditioning business has 25 percent more employees this year than last. He said the slowdown has motivated him to watch what he's spending and make business decisions more carefully.
Julia Pitt said her personal financial crisis predates this one by about four years, but in that time she hasn't canceled her Curves membership. Now, she uses her workouts as therapy. When she lost her job four years ago, she joined to relieve her stress.
Stress is a classic symptom of troubled economic times and exercise is an effective combatant. That may explain why fitness is emerging as such a recession-resistant industry.
A 2009 survey by the International Health, Racquet and Sportsclub Association reported that nearly 70 percent of clubs surveyed said total revenue and total memberships in January 2009 were much better, better or equal to those of January 2008.
With that in mind, perhaps it's not surprising that Snap Fitness opened its most recent club in Spring Hill in December or that Maximus is planning a new club in Shawnee. And Sells is proud of the flat-screen TVs that were just installed at LAC.
"We've been around 25 years. This is the second recession I've been through," Sells said. "You just have to learn to do things, take care of your people."
Copyright 2018 The Lawrence Journal-World. All rights reserved. This material may not be published, broadcast, rewritten or redistributed. We strive to uphold our values for every story published.